NEWS
Mr. Popper's Penguins - Soundtrack
08 Jun 2011
By Tommy Pihl
(JCO Editor-In-Chief)
We now have got the track list and cover for the soundtrack for the Jim Carrey comedy "Mr. Popper's Penguins". It is scheduled for December 9 via Varese Sarabande Records.
The album includes the original score from composer Rolfe Kent, who collaborated on the project with director Mark Waters for the sixth time. The orchestral score was recorded in May on the Fox Alfred Newman scoring stage in Los Angeles.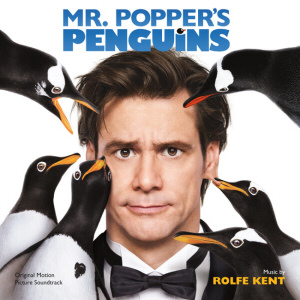 ROLFE KENT:
Rolfe Kent's unexpected texture, sounds and a signature musical personality are the hallmarks of his work. The British composer has scored more than 40 films including "Charlie St. Cloud," "Sideways" (for which he was nominated for a Golden Globe and a Critics' Choice Award in 2007), "About Schmidt," "Election," "Mean Girls," "Freaky Friday," "Nurse Betty," "Legally Blonde," "Oxygen," "Wedding Crashers," "Just Like Heaven," "The Matador," "The Hunting Party," "The Lucky Ones," "17 Again," "Ghosts of Girlfriends Past," "Thank You for Smoking," "The Men Who Stare at Goats" and "Up in the Air." Kent also composed the Emmy-nominated main title theme for the hit Showtime series "Dexter."
Kent has the distinction of attracting and sustaining professional relationships with directors as popular and diverse as Alexander Payne, Mark Waters, Jason Reitman, Burr Steers and Richard Shepard, among others.
TRACK LIST:
1. Radio Chat / The Streets Of New York (2:30)
2. "The Horn Of Africa" (1:57)
3. Popper's Life / Reginald And The Will (1:51)
4. A Live Penguin (1:39)
5. To The Tavern And Van Gundy (2:33)
6. Captain Runs A Bath (1:15)
7. Trying To Get Rid Of Captain (1:03)
8. A New Host Of Penguins (3:22)
9. The Man From The Zoo (1:54)
10. Of Sleep And Soccer (3:27)
11. Penguins' Uncanny Tracking Ability (1:25)
12. Guggenheim Pandemonium (2:03)
13. What Advice Have You Got, Dad (:53)
14. Training The Birds (1:45)
15. Dresses, Daughters, And Eggs (1:52)
16. Showing Amanda The Eggs (1:14)
17. Skating Date (2:17)
18. Whoever Has The Fish (:30)
19. Kent And His Camera Phone (1:22)
20. Eggs Hatching / Captain Waits (2:31)
21. Popper's Gone Crazy (2:51)
22. Life Without Penguins (2:09)
23. The Lost Letter, And Popper Has A Plan (2:38)
24. The Escape From The Zoo (4:59)
25. A Race To The Tavern On The Green (:32)
26. Challenge At The Tavern — Come To Popper! (4:01)
27. A Family In Antarctica (2:37)
-- Click to
comment this article
.
» Send to friend
---
« Newer article
|
Overview
|
Older article »