NEWS
Memorable Moment: Jim Carrey on Jonathan Ross (2003)
20 Apr 2011
By Lucas Allen
(Web correspondent)
Jim Carrey was on the BBC's 'Friday Night with Jonathan Ross' in May 2003 to promote his hit comedy "
Bruce Almighty
". When Jim enters the show, Jonathanís band began singing I Am the Walrus that Jim did for George Martinís Beatles tribute album In My Life. Jim then asks the host about how the British emphasized certain words like schedule and charade. Jim also asks about the floating bubbles in the background and considers them to be ďfuture farts.Ē Jonathan mentions that heís excited about Jimís new movie to which Jim responds that in the states, most people would say theyíre excited when theyíre clearly not. Jonathan also mentions that one of his favorite movies was "The Cable Guy" which didn't do well in the United States yet Jim said it won an Oscar.
Then Jim pulled some Euros (British money) out of his pocket and said that people like to spend some of them on him yet it also scares them. When Jonathan asks Jim what itís like being a Canadian living in the United States, Jim answers that he doesnít dislike America thinking he might want to come back to Canada. Jim then goes up to the band and imitates them leering over the host like a koala bear. Finally, they showed a clip from "Bruce Almighty" featuring Jim as Bruce Nolan showing off his God powers.
As the interview continues, the two men compared each otherís lives where Jonathan is married while Jim was single at the time. Then Jim talks about his early stand-up days doing impressions including James Dean and John Wayne as demonstrated on the show. Then Jonathan showed a clip of Jimís stand-up performance in a 1984 episode of the 'Bob Monkhouse Show'. In the clip, 22 year old Jim imitated Mick Jagger of the Rolling Stones.
Afterwards, Jim talks about the time he was promoting "Bruce Almighty" in Germany and was caught dipping in one of the countryís fountains. Then he pulls out his ďalternate ID,Ē which happens to be the filmís UK poster. When Jimís asked about his physique, he said that comedians should not be too muscular when doing stand up. Then Jonathan decided to compare his kinda-crooked teeth to Jimís perfect set of teeth, which Jim replies that it was genetics. Also when asked about the Dumb & Dumber prequel "When Harry Met Lloyd" (where Eric Christian Olsen gives an amazing imitation of Jimís Lloyd Christmas), Jim replies that he wished the cast some luck that imitation is the sincerest form of plagiarizing.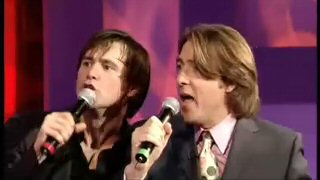 Then Jim teaches Jonathanís band how to play bagpipe music with your head tilting your head back, holding your nose, and banging your neck while making a noise coming out of your mouth. At the end of the program, the two men performed a karaoke duet of the classic rock tune Wild Thing.
To see the entire clip, go to JimCarrey.com and look for it under the TV section or download it from JCO.
Right click here
and save to destination.
-- Source:
BBC
. Click to
comment this article
.
» Send to friend
---
« Newer article
|
Overview
|
Older article »