NEWS
Calling all actors interested in "Mr. Popper's Penguins"
09 Oct 2010
By Nicola West
(Editor/Writer (UK))
Calling all actors and extras, we've just been informed that Central Casting is holding an Open Casting Call for "
Mr. Popper's Penguins
" in their offices in NYC. SAG, AFTRA and Non-Union Actors are all welcome. Principle Photography began Monday this week. Some of the listed characters below are already cast, but not announced yet.
Casting director: Kathleen Chopin
Sunday, October 10, 2010
SAG Actors 10:00am - 12:00pm
AFTRA and Non-Union Actors 1:00pm - 5:00pm
For those hoping to land an acting part here are some of the profiles of the characters they hope to cast for-
*Spoilers be aware*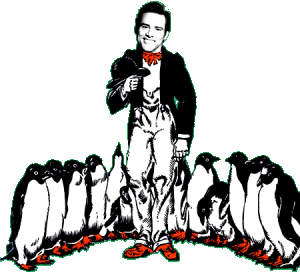 Tommy Popper
- Jim Carrey
Mrs. Popper
- Carla Gugino
Pippi
- Ophelia Lovibond
Daryl
- Andrew Stewart-Jones
Young Tommy Popper
- Popper seen as an eager little boy, he talks on a ham radio to his always-absent globe-trotting father. He thinks his dad's adventures are glamorous -- until he realizes he has been effectively abandoned. Looking for a 7-8 year old to play 5 years old.
Older Tommy Popper
- Tommy Popper seen as a slightly older boy, he's saddened by his globe-trotting father's continuous absence from his life. To play 8 years old.
Cop 2 / Quint
- This cop stops Popper and his party to investigate a disturbance, and winds up falling hard for Pippin. He speaks with repetitive 'Q' sounds, a comical counterpoint to Pippi's 'P's'.
Tito
- This Latino man works as a busboy at Tavern on the Green. He also pitches in to help Mr. Popper on his 'date'.
Mom
- Seen in flashback, she is Mr. Popper's mother, a warm woman who smilingly interrupts her son's radio conversation with his father because it is time for bed.
Teacher
- Young Tommy Popper's teacher, she gently tries to cover for Tommy when she realizes his father has not shown up for career day.
Homeless Man
- This homeless man is somewhat sheepish when Mr. Popper catches him in an obvious lie.
Cab Driver
- This cabbie asks if Mr. Popper is alone.
Animal Control Guy
- This bespectacled animal control officer is a by-the-book bureaurcrat who refuses to take Mr. Popper's penguins, since they are not on his official list.
Fish & Game Officer
- This animal control officer also refuses Mr. Popper's penguins, directing him to the 'Marine & Waterfowl' department.
Beautiful Women
- This beautiful woman is on her way to work when she spots Mr. Popper hustling along the street with a penguin in tow. She rolls her eyes at Popper's clumsy come-on.
Cabbie #2
- This cabbie is surprisingly unfazed when Popper gets into his cab with a penguin.
Driver
- Mr. Popper's Town Car driver, he is stuck in the middle of a huge traffic jam. He responds sarcastically to Mr. Popper's request.
Tweedy Type
- This tweedy type uses a library bathroom -- but yells when a penguin joins him in his stall.
Toddler
- This delighted toddler spots a penguin in a toy store and tells his mother he wants one.
Customer
- This delighted female toy store customer asks a store clerk how much a penguin costs. She is dismayed when her would-be 'purchase' discharges on her shoes.
Pre-teen girl
- At Popper's request, this young girl with dental headgear asks Piqu at the charity fundraiser.
Shopgirl
- This shopgirl helps fit Janie for a prom dress.
Hector
- He's another employee at Tavern on the Green.
Reporter
- This society reporter interviews Piqu outside the posh charity function.
Developer
- This young, slick developer pitches a ludicrously offbeat project to Franklin and his partners.
Zookeeper
- This zookeeper tells the concerned Popper that he has never heard of Nat's 'rescue' organization.
Billy's teacher
- This teacher is concerned when Billy's dad is late for career day.
-- Click to
comment this article
.
» Send to friend
---
« Newer article
|
Overview
|
Older article »