NEWS
"Under the Sea 3D" expanding to 108 theaters!
21 Aug 2009
By TNPihl
(JCO Editor-In-Chief)
Jim Carrey's IMAX documentary "
Under the Sea 3D
" is doing fantastic in IMAX theaters since its premiere in IMAX theaters in February. After 26 weeks in release it has grossed more than $16 million from just 40 theaters. A big succes for the film which provides moviegoers with a unique under the sea experience. The film circles the globe traveling to many exotic locations and diving into a world that is rarely seen. And not to forget Jim Carrey who provides the amusing and informative narration.
Warner Bros. Pictures is expanding with theaters due to the big succes. From today it will play in 108 IMAX theaters! You can watch the documentary in the following theaters: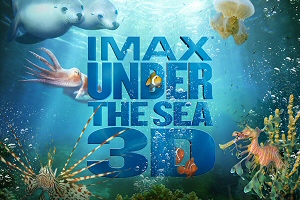 UNDER THE SEA 3D - IMAX THEATERS
| | | |
| --- | --- | --- |
| State | City | Theater |
| Alabama | Birmingham | McWane Center IMAX |
| Arizona | Tempe | IMAX Theatre at Arizona Mills |
| Arizona | Mesa | Gateway 12 IMAX Theatre |
| Arizona | Phoenix | AMC Deer Valley 30 |
| California | Aliso Viejo | Edwards Aliso Viejo Stadium 20 |
| California | Arcadia | AMC Santa Anita 16 |
| California | Burbank | AMC Burbank 16 |
| California | Camarillo | Edwards Camarillo Palace Stadium 12 & IMAX |
| California | El Dorado Hills | Regal El Dorado Hills Stadium 14 + IMAX |
| California | Emeryville | AMC Bay Street 16 |
| California | Fairfield | Edwards Fairfield Stadium 16 + IMAX |
| California | Long Beach | Edwards Long Beach Stadium 26 |
| California | Los Angeles | California Science Center IMAX |
| California | Los Angeles | AMC Century City 15 |
| California | Rowland Heights | AMC Puente Hills 20 |
| California | Sacramento | Esquire IMAX Theatre |
| California | San Diego | Reuben H. Fleet Science Center |
| California | San Diego | AMC Palm Promenade 24 |
| California | Santa Clara | AMC Mercado 20 |
| California | Simi Valley | Regal Civic Center Stadium 16 & IMAX |
| California | South Gate | Edwards South Gate Stadium 20 |
| California | Stockton | City Centre Stadium 16 & IMAX |
| California | Torrance | AMC Del Amo 18 |
| California | Woodland Hills | AMC Promenade 16 |
| Colorado | Highlands Ranch | AMC Highlands 24 |
| Colorado | Westminster | AMC Westminster Promenade 24 |
| Colorado | Westminster | AMC Orchard 12 |
| Florida | Altamonte Springs | AMC Altamonte Mall 18 |
| Florida | Fort Lauderdale | AutoNation IMAX |
| Florida | Fort Myers | Gulf Coast Stadium 16 & IMAX |
| Florida | Orange Park | AMC Orange Park 24 |
| Florida | Orlando | Regal Waterford Lakes Stadium 20 & IMAX |
| Florida | South Miami | AMC Sunset Place 24 |
| Florida | St. Augustine | World Golf Hall of Fame IMAX Theatre |
| Florida | Tampa | IMAX Dome Theatre at MOSI |
| Georgia | Augusta | Regal Augusta Exchange Stadium 20 & IMAX |
| Georgia | Kennesaw | AMC Barrett Commons 24 |
| Georgia | Morrow | AMC Southlake Pavilion 24 |
| Hawaii | Honolulu | Regal Dole Cannery Satidum 18 & IMAX |
| Illinois | Batavia | Randall 15 IMAX |
| Illinois | Chicago | Navy Pier IMAX Theatre |
| Illinois | South Barrington | AMC South Barrington 30 |
| Indiana | Indianapolis | IMAX Theatre Indiana State Museum |
| Iowa | Davenport | Putnam Museum and IMAX Theatre |
| Iowa | Des Moines | Blank IMAX Dome Theater |
| Kansas | Olathe | AMC Studio 30 |
| Louisiana | Harahan | AMC Elmwood Palace 20 |
| Maine | Saco | Cinemagic IMAX Thetre |
| Maryland | Baltimore | AMC Loews White Marsh 16 |
| Maryland | Columbia | AMC Columbia 14 |
| Massachusetts | Boston | Simons IMAX Theatre |
| Massachusetts | Denvers | AMC Loews Liberty Tree Mall 20 |
| Massachusetts | Methuen | AMC Loews Methuen 20 |
| Michigan | Dearborn | Henry Ford IMAX Theatre |
| Michigan | Lansing | Celebration! Cinema IMAX Theatre |
| Michigan | Sterling Heights | AMC Forum 30 |
| Minnesota | Apple Valley | Great Clips IMAX Theatre |
| Minnesota | Roseville | AMC Rosedale 14 |
| Missouri | Branson | Branson's IMAX |
| Missouri | Independence | AMC Independence 20 |
| Missouri | Kansas City | AMC Barrywoods 24 |
| Mebraska | Omaha | Lozier IMAX Theatre |
| Nevada | Henderson | IMAX Theatre Regal Sunset Station 13 |
| Nevada | Las Vegas | Regal RedRock Stadium 16 & IMAX |
| Nevada | North Las Vegas | Regal Aliante Stadium 16 & IMAX |
| New Hampshire | Hooksett | Hooksett Cinemagix & IMAX |
| New Jersey | Atlantic City | IMAX Theatre at Tropicana |
| New Jersey | Hamilton | AMC Hamilton 24 |
| New York | Albany | Regal Crossgates Stadium 18 & IMAX |
| New York | Brooklyn | UA Sheepshead Bay Stadium 14 + IMAX |
| New York | Deer Park | Regal Deer Park Stadium 16 & IMAX |
| New York | Garden City | IMAX Dome at Cradle of Aviation Museum |
| New York | New York | AMC Loews 34th Street 14 |
| New York | New York | AMC Empire 25 |
| New York | Stony Brook | AMC Loews Stony Brook 17 |
| New York | West Nyack | IMAX Theatre at Palisades Center |
| North Carolina | Charlotte | Observer Omnimax Theatre |
| North Carolina | Raleigh | Wachovia IMAX Theatre at Marbles Kids Museum |
| Ohio | Columbus | AMC Easton Town Center 30 |
| Pennsylvania | Bensalem | AMC Neshaminy 24 |
| Pennsylvania | Hornestead | AMC Loews Waterfront 22 |
| Pennsylvania | Pittsburgh | Rangos OMNIMAX Theater |
| Pennsylvania | Reading | Reading Movies 11 & IMAX |
| South Carolina | Myrtle Beach | Myrtle Beach IMAX 3D Theatre |
| Tennessee | Chattanooga | IMAX 3D @ Tennessee Aquarium |
| Tennessee | Knowville | Regal Pinnacle Stadium 18 & IMAX |
| Tennessee | Memphis | Crew Training International IMAX Theater |
| Texas | Austin | Bob Bullock IMAX Theatre |
| Texas | Frisco | AMC Stonebriar 24 |
| Texas | Garland | AMC Firewheel 18 |
| Texas | Houston | Wortham IMAX Houston Museum of Natural Science |
| Texas | Mesquite | AMC Mesquite 30 |
| Utah | Salt Lake City | IMAX Theater at the Clark Planetarium |
| Virginia | Alexandria | AMC Hoffman Center 22 |
| Virginia | Midlothian | Regal Commonwealth Stadium 20 & IMAX |
| Virginia | Virginia Beach | Virginia Aquarium & Marine Science Center |
| Virginia | Woodbridge | AMC Potomac Mills 15 |
| Washington | Bellevue | Lincoln Square Cinemas IMAX Theatre |
| Washington | Kent | AMC Kent Station 14 |
| Washington | Lacey | Regal Martin Village Stadium 16 & IMAX |
| Washington | Seattle | Boeing & Eames IMAX Theatres |
| Washington | Seattle | Regal Thornton Place Stadium 14 |
| Washington | Tukwila | AMC Southcenter 16 |
» Send to friend
---
« Newer article
|
Overview
|
Older article »