NEWS
First pictures from "Under the Sea 3D"
27 Dec 2008
By Scott Sullivan
()
The first two pictures from "
Under the Sea 3D
" have been released by Warner Bros. Pictures. Check them in bigger resolution in the Gallery.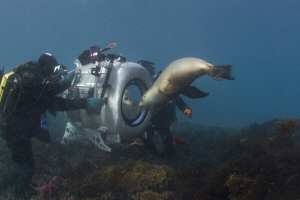 © Warner Bros. Pictures. This is an Australian Sea Lion.
It is seeing its reflection for the first time. It may look very magical for us.
But it is properly scaring the crap out of the Sea Lion.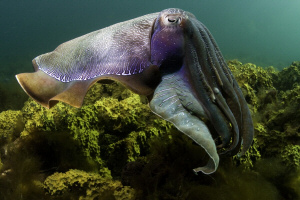 © Warner Bros. Pictures. A Giant Cuttlefish has the ability to show
the whole spectrum of color on his leathery skin. Which is good
for blending in and surviving.
As some of you may know, Jim Carrey will be narrating "
Under the Sea 3D
" which comes out exclusively in IMAX on February 13, 2009. But not many know what it is about. It is a documentary about aquatic life, mainly in Southern Australia and how the fish deal with their lives and how Global Warming is affecting it. Going off of the first two pictures. It seems to be taking a "March Of The Penguins" aproach. Also, with it being in 3D. The fish will pop out at you, making it seem like you are in the water. So you will get the full experience. It seems like it will show everyone how beautiful fish can be. At the same time, making you feel sorry for them because of their climate. But most of all, "Under The Sea 3D" will show you, that we aren't that much different after all.
--
Click to comment this article
.
» Send to friend
---
« Newer article
|
Overview
|
Older article »