NEWS
Phillip Morris Premieres January 18, 2009
14 Dec 2008
By TNPihl
(JCO Editor-In-Chief)
Interesting news about Jim Carrey's upcoming movie "
I Love You Phillip Morris
". The calendar for the 10 days of Sundance Film Festival, January 16 - 25, 2009 has been announced. And especially the third day is interesting for us. "I Love You Phillip Morris" premieres January 18, 2009 at the Eccles Theatre. The movie has a total running time of 100 minutes.
Check also this new movie still: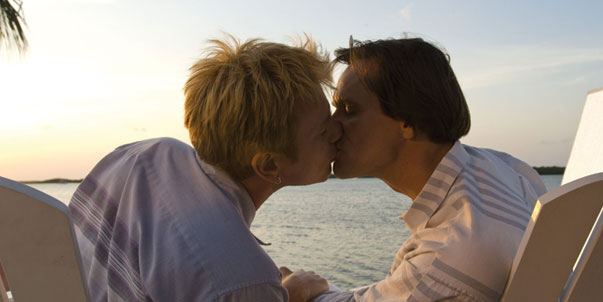 Description:
With alacrity and style, Glenn Ficarra and John Requa, the co-directors of "I Love You Phillip Morris", have fashioned an improbable, but true, tale of a spectacularly charismatic and resourceful con-manís journey from small-town cop to flamboyant white-collar criminal. Concocted by the absurdist sensibilities and warped minds that were behind the creation of Bad Santa and centered around an eccentrically wonderful performance by Jim Carrey, the film relates a story that is truly stranger than fiction and showcases a love story that will not be denied. When a local Texas policeman, Steve Russell (Carrey), turns to cons and fraud to allow him to change his lifestyle (in more ways than one), his subsequent stay in the state penitentiary results in his meeting the love of his life, a sensitive fellow inmate named Phillip Morris, perfectly portrayed by Ewan McGregor. What ensues can only be described as a relentless quest as Russell attempts escape after escape and executes con after con, all in the name of love. This is the world of the preposterous: it plays like a farce but is vastly entertaining because it turns all that we take for granted about life on its head. As a primer on the irresistible power of a man who is either insane or in love (is there a difference?), "I Love You Phillip Morris" surely serves to remind us of the resilience of the human spirit.
Screenings:
Sunday January 18 9:30 p.m. - Eccles Theatre, Park City
Monday January 19 9:15 a.m. - Eccles Theatre, Park City
Tuesday January 20 9:00 p.m. - Tower Theatre, SLC
Saturday Janunary 24 6:00 p.m. - Screening Room, Sundance Resort
-- Click to
comment this article
.
» Send to friend
---
« Newer article
|
Overview
|
Older article »