NEWS
"Horton Hears a Who!" DVD in stores today
09 Dec 2008
By TNPihl
(JCO Editor-In-Chief)
"
Horton Hears a Who!
" is available today on DVD and Blu-ray. The animation grossed $154.5 million at the North American box office and is #6 on Jim Carrey's all time box office list with a total of $297.0 million! And still playing in two territories.
The Special Editions are loaded with bonus features, big and small, including commentary with directors Jimmy Hayward and Steve Martino, eight featurettes, exclusive deleted footage and the debut of the Ice Age short "Surviving Sid." Buy it today!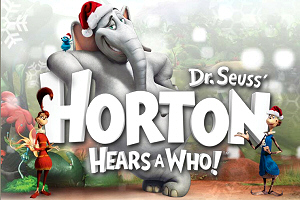 © Twentieth Century Fox Home Entertainment
The
Horton website
has just had a big christmas update full of lots of fun and exciting features for the DVD release. A interesting part of the updated website is big game section and also the video section where you can watch five new TV spots. For those of you who want to completely immerse yourself into the Horton experience you can print and share Horton posters with your friends along with wearing a Horton T-Shirt, designs can be downloaded from the site. Below are details about the DVD's:
Single Disc Edition
- A double-sided disc with both widescreen and full screen presentations. Features include:
Directors' Audio Commentary with Jimmy Hayward and Steve Martino
Ice Age short "Surviving Sid" - All-new animated short focusing on the Ice Age characters Sid and Scrat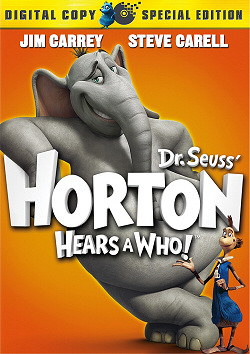 © Twentieth Century Fox Home Entertainment



Two-Disc Special Edition Including Digital Copy - Includes all above single-disc content with the following extra material featured on the second disc:


Deleted Footage and Animation Screen Tests (w/ Introductions and optional audio commentaries by the directors)
That's One Big Elephant: Animating Horton - In an animation-focused featurette, learn how Blue Sky brought Horton to life
Bringing the Characters to Life - Watch the animators' hilarious initial performances recorded as a reference to assist in animating the film
Meet Katie - Discover how the character "Katie" was developed by Blue Sky
Elephant Fun: The Facts - Fun and informative featurette about elephants
Our Speck: Where Do We Fit In? - Using interviews with everyday kids, we'll learn how even small actions can help make the world a better place
A Person Is a Person: A Universal Message - Featuring interviews w/ cast and crew, we will take a closer look at the characters, the story and interpret the meanings of Horton Hears a Who!
Bringing Seuss to Screen - Learn how Hayward and Martino maintained the authentic look and feel of Dr. Seuss world
The Elephant in the Room: Jim Carrey - Profile on Jim Carrey voicing Horton
We Are Here! Game - Memory game in which you have to repeat the correct pattern of Who-noises
DVD-ROM: Create Your Own Animation


DVD Gift Set with Horton Plush (Two-Disc Special Edition) - Includes all above two-disc special edition content including Horton plush


Blu-ray Two-Disc Including Digital Copy - Includes all above two-disc special edition content except DVD-Rom Create Your Own and features:


Bonus View technology "Watch Horton Hears a Who! with a Who!" - Watch the movie with the smallest 'Who' of all - Jo Jo!

-- Source: Twentieth Century Fox Home Entertainment. Click to comment this article.

» Send to friend


---
« Newer article | Overview | Older article »