NEWS
"Wanna rock out tonight?"
08 Dec 2008
By TNPihl
(JCO Editor-In-Chief)
The release date for the soundtrack from Lakeshore Records for "
Yes Man
" has been moved to December 16, 2008. It is featuring new exclusive music from EELS, Zooey Deschanel & Von Iva. In the movie Jim Carrey is performing two songs. 'Jumper' written by Stephan Jenkins and 'Can't Buy Me Love' by John Lennon and Paul McCartney.
Music plays a key role in "
Yes Man
," as it has in all of Peyton Reed's films. "I'm a huge music fan, and I've done a lot of movies with music at their core. After I completed 'Bring It On' and 'Down With Love,' people mentioned that they're both, in weird ways, musicals without being musicals," Reed cites. "With this film there are a lot of musical threads, from Jim Carrey's character learning to play guitar to Allison's band. The premise of this movie allowed me to explore some different musical ideas, which is always fun for me."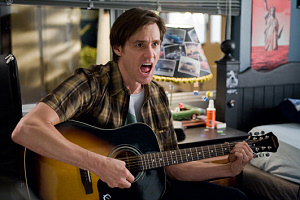 © Warner Bros. Pictures/Melissa Moseley
Zooey Deschanel is an accomplished singer/songwriter. She happily joined forces with the San Francisco-based band Von Iva, chosen for the movie by music supervisor Jonathan Karp. "I happened to see Von Iva's CD and discovered they were a terrific and talented band," offers Karp. "They were enthusiastic about joining our film, so we brought Zooey and the girls of Von Iva—Becky, Kelly and Jillian—together for a week of rehearsals, followed by time in the recording studio. During this process, they really bonded and became this tight little band for the film."
Deschanel collaborated on the lyrics for the band's songs with the members of Von Iva and director Peyton Reed and Karp. In the story, Allison's personal dramas are poured into the songs she performs with the uniquely named Munchausen By Proxy. "During rehearsals, we wrote all the music and lyrics and we had a great time bonding," remembers Deschanel. "It was fun to have the chance to become part of that creative process, and when we shot the performance scenes, it was very cool to see the crew humming along to our songs."
"We were so lucky that Zooey plays Allison in the film, because she brought so much to it," notes Karp. "She's a wonderful and experienced singer, and a great lyricist. She really deserves a lot of credit for these funny lyrics."
The score was equally important to Reed. "I'm a huge fan of the band Eels. And the leader of Eels is this guy named E. We all thought it might be difficult to convince him to do it, but he saw the movie, and I think he primarily liked two things about it: it takes place in his neighborhood, and it's about a guy who is very closed off and kind of depressed, whose world is opened up. And that's really what every song he's ever written is about. So he really connected with the story and agreed to do the score."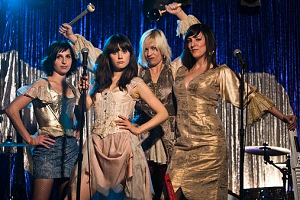 © Warner Bros. Pictures
E, whose real name is Mark Oliver Everett, worked with composer Lyle Workman to create the score. The director continues: "E and Lyle used some of the instrumental tracks of the Eels' existing stuff. Then they composed new stuff to fit in with that as well. I think overall the music really adds to the film's emotion as well as the flavor of that part of Los Angeles."
"I'm having a little get-together at my place – it's a Funny Hat and/or Wig Party."
Designing the outlandish costumes for Allison's band was one of many creative challenges for costume designer Mark Bridges, who worked with Zooey Deschanel to create the uniquely eye-catching outfits Munchausen By Proxy wears in the film.
"I went to watch Zooey and Von Iva during rehearsals, and I thought their style and the way they moved called for sexy but offbeat period clothes, like something that hasn't been done in about 20 years, so it was kind of light 80's punk meets 18th century," laughs Bridges. "We threw on pieces as if they had a showbiz trunk and were pulling things out for each of their songs, depending on the theme."
Bridges also had fun designing for Carl's boss Norm's themed costume parties. "One of the most interesting things was designing the wardrobe for Norm's parties." For the Harry Potter party, Bridges details, "We had to make sure the pieces looked amateurish, like people who are really into the films might put together. So we only used clothing from thrift stores that looked real, looked used. We used graduation robes and some licensed pieces, the oddball eye patch and other things distinct for each character."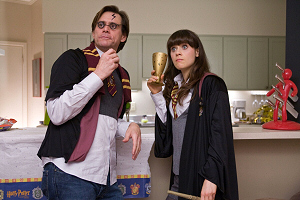 © Warner Bros. Pictures/Melissa Moseley
For Norm's "300" party, Bridges and his team also ensured the costumes looked homemade. "We tried to pick the iconic costumes from the film and duplicate them in the wackiest way," states Bridges. "For instance, one party guest that has a lot of piercings and is half-naked—we used a Slinky around his neck and glue-on earrings on his nose."
-- Source: Warner Bros. Pictures. Click to
comment this article
.
» Send to friend
---
« Newer article
|
Overview
|
Older article »