NEWS
"Go jump off a bridge!"
03 Dec 2008
By TNPihl
(JCO Editor-In-Chief)
As part of taking on the "
Yes Man
" role, Jim Carrey had to perfect a variety of new skills he would need for Carl to take the leap of faith into the world of "yes." Though he had dabbled in guitar before, now Carrey spent hours rehearsing the song he would eventually play during his scenes with a character who is attempting a different sort of leap. As for Carrey's musical gifts? "My guitar teacher was very encouraging. He said, 'You have good rhythm, you have an ear, you should really stick with this.' But the actor knows his limits. "Never touched a guitar after we wrapped. Why touch it when there are people like Eric Clapton in the world?"
Carrey also studied Korean with dialect coach John Song in order to portray Carl's mastery of the language. "When I got it down, people were really impressed, but it took me a good ten weeks. It was one of the hardest things I've ever had to do."
The director has a different take. "Working with Jim every day is an adventure, because the story requires him to do so many different things: he rides a motorcycle, he learns Korean, plays guitar, plays 'Dance Dance Revolution,' he 'roller-luges' and he bungee jumps off a bridge! Jim just dug in, and he was so prepared on this film. It made my job much easier."
Carrey had previously demonstrated his motorcycle riding ability in films, most memorably in "Dumb and Dumber." In "
Yes Man
" he displayed his two-wheel skills on a Ducati motorcycle… wearing a hospital gown.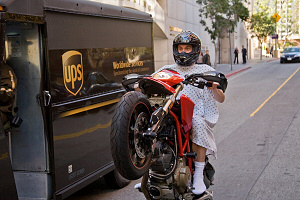 © Warner Bros. Pictures/Melissa Moseley
"Eat your heart out, Peter Fonda," laughed Carrey as he jumped on a Ducati for scenes shot in downtown Los Angeles. "It's a new motorcycle movie for a new generation: Ducati!"
Special effects technicians developed custom rigs for the sequence, in which Carl borrows a Ducati from a friend and races through traffic to find Zooey Deschanel's character, Allison. The rigs allowed Carrey to ride behind the camera car and emulate wheelies and other stunts, all carefully controlled for maximum safety.
"In the film, this is the first time Carl has ever been on a Ducati motorcycle—1100ccs, tons of torque, this bike's a monster," says Ernie Vigil, who performed some of the stunt riding for the film. "It was cool to see Jim on these rigs, but I didn't know if he could ride a motorcycle. Then he got on the Ducati, took off and was weaving in and out of traffic like a pro. He was great!"
Another action sequence in the movie, featuring the lesser-known sport of body blading, was inspired by an online video the director received. "A friend sent me this clip and said, 'This looks fun—check it out!' It was a Frenchman, Jean Yves Blondeau, in this insane 'roller buggy suit' covered in inline skate wheels, which he had designed," recalls Reed. "It looked like a suit of armor combined with a 'Star Wars' stormtrooper outfit! I showed it to Jim and the writers and we all became obsessed with it. It seemed really fun and kinetic."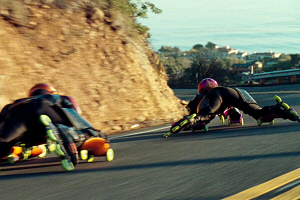 © Warner Bros. Pictures
In the clip, Blondeau moved from a standing position to a prone position, racing through the streets at up to 60 miles per hour. The filmmakers contacted the bladesman, who came over from France to consult on the movie and to double for Jim Carrey in portions of a scene where Carl and Allison try out the sport.
"It's unbelievable to see in real life how fast he goes," says Reed. "And then to try to figure out how to cover him with the cameras, because he's so fast, he's in and out of frame in two seconds!"
When they filmed the scene in Decker Canyon in Malibu, stunt coordinator Gary Hymes and Blondeau worked very closely with the stars to ensure their safety, though Deschanel was perhaps a bit less enthusiastic than the guys when it came to the stunt.
"Zooey—beautiful, talented, bit of a coward when it comes to the rollerblading suit," teases Carrey. "Understandably, you know, the girl doesn't want to go off the canyon. It's probably reasonable."
"That's an extreme sport," remarks the actress. "You have to practice for a very long time to learn how to do that. It's all my stunt double did for many, many weeks and she's a professional!"
The filmmakers designed a treadmill-like rigging in order to safely film the actors in action. "It's really fun, like a ride," says Deschanel.
"I think Zooey's a different person now," comments Reed. "She conquered a lot of fears on this film."
Speaking of going to extremes, at one point in the story Allison becomes annoyed with Carl and tosses off a veiled reprimand to him: "Go jump off a bridge." Propelled by the power of suggestion, Carl bungee jumps off of the Colorado Street Bridge in Pasadena.
Throughout production, Carrey had been lobbying the studio for approval to do the stunt himself. "I wanted to do the bungee jump myself because I wanted to transcend the movie," he states. "I wanted the audience to know that Jim Carrey really did this bungee jump and really went for it!"
"From the get-go, Jim was really hyped to do it," says Reed. "It was something he wanted to check off his list of things to do in life. Understandably, we had a few reservations about our lead actor doing a bungee jump… at least in the middle of filming," he jests.
Ultimately, the filmmakers gave the thumbs up for Carrey to do the jump himself—on his final day of shooting.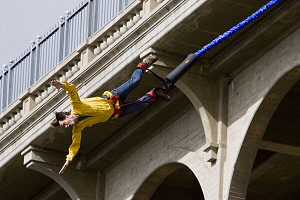 © Warner Bros. Pictures
"It was all done very safely, in coordination with our stunt coordinator and Bungee America, but I can't tell you I wasn't nervous on the shoot day," notes Reed. "With all of the precautions, you're still sending Jim Carrey off of a bridge. And we were only going to have one chance to catch the jump with our cameras, so it had to go off without a hitch."
The filmmakers used six cameras to capture the one-time-only jump. They employed a high-speed winch set-up—a computerized rig with a camera on a Libra head, a three-axis digitally stabilized camera mount—as the main camera angle, following the jump as Carrey descended. A second Libra head held a second camera placed over the side of the bridge, along with four additional cameras in various positions. With the filmmakers and crew sequestered behind video monitors, Carrey performed a swan dive off of the bridge.
"That was incredible, that was wild! I loved it!" Carrey declared after his jump. "When I saw the bridge this morning, I thought, 'What am I doing, this is absolutely insane.' It didn't really hit me until I was standing on the platform, just before the jump."
"Not only did Jim do the jump perfectly, but he pulled out his prop phone and did his lines hanging upside down, suspended from the bridge, right on cue," laughs Reed. "To have the presence of mind to be able to do that is pretty amazing! It was such an adrenaline rush! For Jim, it was the best possible way to end his work on "
Yes Man
" —how could you end it on a higher note?"
-- Source: Warner Bros. Pictures. Click to
comment this article
.
» Send to friend
---
« Newer article
|
Overview
|
Older article »