NEWS
"Yes Man" - Soundtrack
18 Nov 2008
By TNPihl
(JCO Editor-In-Chief)
The "
Yes Man
" soundtrack is scheduled for December 9, 2008 via Lakeshore records.
On the soundtrack you can hear Munchausen By Proxy, a fictional band starring Zooey Deschanel and Von Iva. A band which Carrey's character in the movie is incessantly invited to see by an over-eager street promoter. Jim Carrey's character meets Deschanel's by finally agreeing to see her band and then is quickly besotted at first sight.
Four Munchausen songs are featured in the film and the soundtrack. The website
The Playlist
has got a picture of the band from the movie. Check it here. Click on it to see other pictures of the band in big size: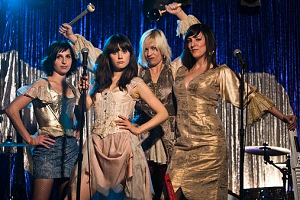 Von Iva with Zooey Deschanel performing
The electro soul-punk group Von Iva got the part of the fictional ensemble in the film after the movie's music supervisor, Jonathan Karp, saw the cover of their CD in Amoeba Music in Hollywood. "He just thought we'd be a good fit," Kupersmith says. "We met with Jonathan and the director (Peyton Reed), and we were hired on the spot." Their Hollywood interview was pretty casual; Karp and Reed liked their recordings, and the ideas they had for this fictional band. "They gave us a lot of creative control," she says. "It was like, 'It's your thing, figure it out.'"
EELS composed the score of the film in collaboration with Lyle Workman (composer for "Superbad" and "Forgetting Sarah Marshall"). EELS is an American indie rock band formed by singer/songwriter Mark Oliver Everett, better known as E. They wrote one new song for the film ("Man Up") which is included on the soundtrack. Eight old tunes are on the disc and in the movie.
Here's the full track list for the "Yes Man" Soundtrack:
1. Man Up - EELS
2. Bus Stop Boxer - EELS
3. To Lick Your Boots - EELS
4. The Good Old Days - EELS
5. The Sound Of Fear - EELS
6. Wooden Nickels - EELS
7. Flyswatter - EELS
8. Blinking Lights (For Me) - EELS
9. Somebody Loves You - EELS
10. Sweet Ballad - Munchausen By Proxy (Featuring Zooey Deschanel & Von Iva)
11. Uh-Huh - Munchausen By Proxy (Featuring Zooey Deschanel & Von Iva)
12. Keystar - Munchausen By Proxy (Featuring Zooey Deschanel & Von Iva)
13. Yes Man - Munchausen By Proxy (Featuring Zooey Deschanel & Von Iva)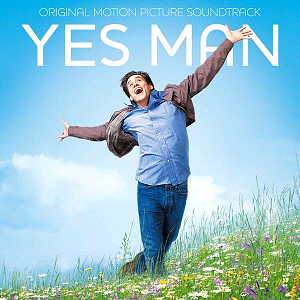 Samples of some of the tracks can be found on the soundtrack's MySpace.
Click here
or check the movie page for more information,
click here
.
-- Source:
The Playlist
. Click to
comment this article
.
» Send to friend
---
« Newer article
|
Overview
|
Older article »