NEWS
Review: The Oprah Winfrey Show
24 Feb 2008
By Nicola West
(Editor/Writer (UK))
Jim Carrey appeared on Monday's Oprah, along with Steve Carrell and Carol Burnett to promote the release of "
Horton Hears a Who!
".
For those of us who missed it, here's a review of the interview:
With a set transformed into Dr. Seuss's land of Who-ville, the three main cast members of "
Horton Hears a Who!
" strutted their stuff on Oprah. Joining Jim were Steve Carell and Carol Burnett. No stranger to Dr. Seuss, Jim brings the voice of his character to life in the loveable elephant Horton.
Jim's mission as Horton, is to protect the tiny town of Who-ville. The town's members include a kangaroo played by Carol Burnett and Who-ville's befuddled mayor, played by Steve Carell.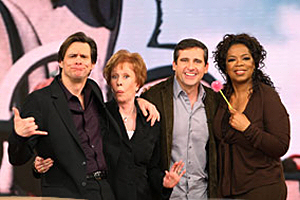 © Harpo Productions
On his second Dr. Seuss character-
Jim says "really, it's one of those pure things that have been handed down through a couple of generations." "You pick up a Dr. Seuss book, and every child in the room is just glued. You don't know why. It's just pure creativity."
A movie for all ages "Dr. Seuss always has a lot of levels going on," he says. "And I think this story is symbolic of, kind of the smallest voice has a purpose and has a contribution to make."
On the theme - Can we believe in things we can't see?
Jim says that's the underlying question in Horton. Jim jokes that the Whos are like the tooth fairy. "A lot of people let that go," Jim jokes. "But not me. I got rich off the tooth fairy."
On his spiritual side- What's Jim's personal philosophy?
Jim says he has his own philosophy that he follows: "I am heaven." When he starts to feel lost, Jim says those are the words he keeps coming back to. "Just remember you're heaven," he says. "That heaven is not a place to get to or wait for or spend your life in a mind hoping it will be someday. Have it now, you know?"
Although Jim has a deeper spiritual side, he says has no trouble getting into character for the imaginative world of Dr. Seuss. "Just kind of connect with your silly self, you know?" he says.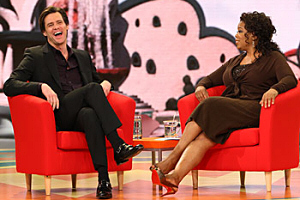 © Harpo Productions
On his relationship with Jenny McCarthy and his plans for Valentines Day-
Jim says whilst they are in Chicago, Jenny's hometown. "We're just going to go everywhere she ever existed. That's what we've been doing so far. We'll continue to do that. You know, where she had her first kiss and travel around and see all those places that were near and dear to her and I'm going to put my scent all over them so it will never be the same for her," he jokes.
Jim says the great relationship he has with Jenny has come at a good time in his life. "I think what happens is you go along and you try a lot of different things in relationships and different people and you realize that you're not going to attract the person that's right for you until you become a whole person yourself," he says. "It's really not about completing someone or being completed by someone."
Poking gentle fun at the Cruise/couch affair he joked with Oprah, "She's wonderful and I'm very in love, but I'm not going to jump up and down on your couch."
Jim is also close to Jenny's son, Evan. In September 2007, she described Jim as "the autism whisperer."
"That is a huge compliment," he says. "I think it's just because I'm interested, you know? I really want to find out how his mind works."
On his daughter Janes musical talent-
"She's incredibly talented," he says. "She's a jazz musician and singer/songwriter, and she's just going to really surprise a lot of people. I sit there, and I just marvel at her."
On his childhood idol Carol Burnett-
"This lady was the one who made me laugh my entire childhood, one who inspired me to want to be what I am," Jim says. When he was 10 years old, Jim says he sent a letter to Carol so he could get a spot on
The Carol Burnett Show
. "And I did get a very kind rejection notice about having to hire through the agencies and things like that, but I was so thrilled just to get a letter from Hollywood and from Carol Burnett, I was out of my mind," he says. "She's just been a hero of mine my whole life, and without her, there wouldn't be 30 years of Saturday Night Live. She's a real pioneer and a lovely, lovely person."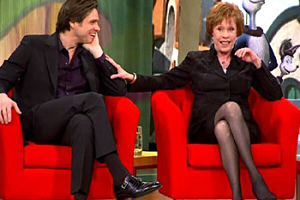 © Harpo Productions
Carol says she doesn't know who sent Jim that rejection letter years ago, but assures him one thing. "I will fire her," she jokes. "Even though I don't have the show anymore—I'll fire her."
Then Carol belted out her best Tarzan yell to the delight of the audience and Jim. "To me, that's like seeing Led Zeppelin," he says. "I camp out for that."
Conclusion-
An audience member then asked if Jim can dance. "Not really, but I can fake anything," he says. "Do you want to dance with me?"
Diving off the set Jim proceeded to twirl and tango her through the crowd!
"
Horton Hears a Who!
" is out on general release from March 14th.
-- Source:
The Oprah Winfrey Show
. Click to
comment this article
.
» Send to friend
---
« Newer article
|
Overview
|
Older article »