NEWS
The Challenges of "The Number 23"
17 Feb 2007
By TNPihl
(JCO Editor-In-Chief)
With the cast on board, the filmmakers set about figuring out exactly how they would bring this story to life on screen. While Fernley Phillips' screenplay was unique, it was a complicated story which still needed some tweaking in order to successfully translate to the screen. Specifically, Schumacher knew that they would need to figure out the best way to bring the characters in the book - Detective Fingerling and the femme fatale, Fabrizia - to life in the film.
"The way the script was written, the fantasy world was actually more computer generated - the way Fernley had first envisioned it, the characters were somewhat gray, amorphous people with black hollowed-out eyes," explains Schumacher. "The first thing I explained to Fernley was that it would be very hard for anyone to get emotionally involved with those shapes for a whole movie. And I thought it would be great for the actor to play the duality. What happened with Jim and Virginia is that they really did become other people because Fingerling as the detective and Virginia as the femme fatale in the movie are totally different human beings from Walter and Agatha, although they certainly have some of them in them."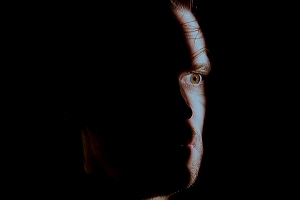 © New Line Cinema
The key for Schumacher was to succeed in having the characters in the book sequences be dark reflections of the characters in the main story - Walter and Agatha.
"It's a movie about self-revelation and each chapter of the book is designed to be reflective of the content," says Schumacher. "There are haunting questions that each chapter brings up with, not only Walter, but his son and some of the people around him. Many things become disturbing. I think everybody has read books or seen movies or plays where there are parts that closely mirror their own lives, maybe unspoken things that seem to disturb someone when they're experiencing it."
Schumacher also knew that the look of the film - particularly the visualization of the book sequences - would be crucial to hooking audiences into this dark and surreal world. To create the look of the film, he put together a talented production team which included cinematographer Matthew Libatique (The Fountain, Inside Man), production designer Andrew Laws (The Break-Up, Derailed), and costume designer Daniel Orlandi (The Da Vinci Code, Cinderella Man). Together, they created not only the stark look of a modern day thriller, but the dark and disturbing design of the literary nether world of The Number 23.
-- Click to
comment this article
.
» Send to friend
---
« Newer article
|
Overview
|
Older article »