NEWS
Still the Uniform
04 Jun 1999
More info on Jim Carrey's R.I. Trooper uniform was sent to us by John Moretta, co-owner of Stateline Uniforms, Inc., Westerly, RI:
"I'm from Westerly, RI which is about 30 minutes from Newport and Jamestown. They've been filming for the past week in both towns with tremendous fanfare.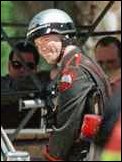 I along with my partner Joe Cosentino are the owners of Stateline Uniforms. We supplied the costume company with most of Jim Carrey's Uniforms. It's true, the Troopers of the RI State Police take great pride in their uniforms and each one is custom made to the Trooper's measurements.
The Colonel of the Rhode Island State Police was real adamant about the uniforms looking realistic, so we shipped a hundred pound roll of custom material out to Hollywood for the costume company to reproduce them. They were very careful to reproduce the exact same uniform worn by the RI Troopers, right down to the 14kt Gold Buttons. (Although I did see two missing on his pockets in the last photo.)
It's neat seeing all of the stuff we supplied being worn by Jim.
The total cost of the uniform, including leather and boots...over $1000 per set. The boots being the most expensive. They're custom made and molded to the troopers foot. All of the shirts and trousers are also custom made from a roll of Bedford Cord fabric, about $30 a yard."
-- With a big Spank You to
John Moretta
, for sending us these cool behind-the-scenes details. Picture courtesy of
Associated Press
.
» Send to friend
---
« Newer article
|
Overview
|
Older article »