NEWS
About the "Number 23" Filmmakers
27 Jan 2007
By TNPihl
(JCO Editor-In-Chief)
Joel Schumacher
(Director)
Joel Schumacher is renown for his versatility, style and ability to move seamlessly between film genres with equal popular success and critical acclaim. He began his film career as a costume designer (Blume in Love, Sleeper) and writer (Sparkle, Car Wash) before making his film directorial debut on The Incredible Shrinking Woman in 1981.
He was co-writer and director on D.C. Cab and St. Elmo's Fire before directing such well-received films as The Lost Boys, Cousins, Flatliners, Dying Young and Falling Down. He also directed the film versions of two best selling novels by John Grisham (The Client and A Time to Kill) as well as two installments of the blockbuster Batman film series,
Batman Forever
(which co-starred Jim Carrey as 'The Riddler') and Batman & Robin.
Most recently, he brought audiences the films 8MM, Flawless (which he also wrote), Tigerland, Phone Booth, Bad Company and Veronica Guerin. In 2004 he adapted Andrew Lloyd Webber's hit musical, The Phantom of the Opera, for the screen. The film was nominated for three Academy Awards and a Golden Globe for best musical/comedy.
The Number 23 marks Joel Schumacher's 23rd film or television directorial assignment.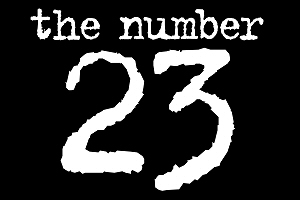 Fernley Phillips
(Screenwriter)
Fernley Phillips makes his screenwriting debut with The Number 23, which was also his first script sale after studying screenwriting and filmmaking at UCLA. Born in Newcastle, England, he moved with his family to London as a child. He moved to the United States to attend film school, where his first script, Ghost Land, attracted considerable attention and landed the young writer his first manager.
He sold the screenplay for The Number 23 to Contrafilm and New Line Cinema in 2002 and is currently writing an English-language version of the Japanese film Turn for Radar Pictures. He and his wife now reside in the Los Angeles area with their infant daughter.
Beau Flynn and Tripp Vinson
(Producers)
Beau Flynn and Tripp Vinson launched their New Line Cinema-based production company, Contrafilm, in March, 2004. The first film produced and released under their banner was the heist adventure After the Sunset, starring Pierce Brosnan, Salma Hayek and Woody Harrelson and directed by Brett Ratner. Contrafilm's next production was the hit supernatural thriller The Exorcism of Emily Rose, starring Laura Linney, that was made in conjunction with Lakeshore Entertainment Group for Screen Gems. The most recent releases from Contrafilm were The Guardian, starring Kevin Costner and Ashton Kutcher for director Andrew Davis, and The Wild, made in 3-D CG animation for release by Walt Disney Pictures.
Prior to founding Contrafilm, Beau Flynn was a partner at The Firm, where he ran the film and television divisions, and Bandeira Entertainment. Among his producing credits are popular films such as Tigerland (directed by Joel Schumacher), Requiem for a Dream, The House of Yes and Guinevere among many others. His birthday is March 23rd.
Contrafilm parner Tripp Vinson also worked with Beau Flynn at Bandeira Entertainment and The Firm. He began his entertainment career working for Jerry Bruckheimer Films after graduating from the University of Southern California. His first producing credit was as executive producer on the film 11:14, which was produced by Beau Flynn.
Mike Drake
(Executive Producer)
Mike Drake most recently was executive producer of the films The Martian Child (starring John Cusack) and King's Ransom (starring Anthony Anderson). He began his career as a production manager and was line producer of the films The Whole Nine Yards and Driven. He also was co-producer of the feature Against the Ropes and associate producer of The Caveman's Valentine.
Eli Richbourg
(Executive Producer)
Eli Richbourg has worked with director Joel Schumacher in several capacities for the past 11 years, starting as an art department staff assistant on the hit film Batman Forever in 1995. He became Mr. Schumacher's assistant on the films Batman & Robin and A Time to Kill before becoming second unit director on the features 8MM, Bad Company, Vernonica Guerin and The Phantom of the Opera (on which he also served as co-producer) as well as associate producer on Flawless, Tigerland, Bad Company, Phone Booth and Veronica Guerin.
Matthew Libatique
(Director of Cinematography)
Visionary cinematographer Matthew Libatique won an Independent Spirit Award for his work on the acclaimed drama Requiem for a Dream in 2000. He collaborated with such top directors as Spike Lee (She Hate Me, Inside Man), Darren Aronofsky (The Fountain, Pi) and Stephen Gaghan (Abandon) and previously worked with Joel Schumacher on the films Tigerland (produced by Beau Flynn) and Phone Booth.
Andrew Laws
(Production Designer)
Andrew Laws most recently designed the films The Break-Up, Derailed, Beyond the Sea, Along Came Polly, My Boss' Daughter, Down With Love and The Minus Man. He also worked with director Joel Schumacher on Phone Booth and Tigerland. He began his career as an assistant art director on such films as Touch, She's So Lovely and Jackie Brown. He became an art director with the film Rushmore and continued as art director for Simpatico, Gone in Sixty Seconds and Swordfish.
Mark Stevens
(Editor)
Mark Stevens worked as the editor on director Joel Schumacher's films Phone Booth, Tigerland, Flawless, 8MM and Batman Forever. He has also edited the features Freddy vs. Jason and Stay Alive. He began his career in television as an assistant editor and moved into film work in the same capacity on the films Hard to Kill, If Looks Could Kill, The Hand That Rocks the Cradle and The Fugitive as well as several television projects.
Harry Gregson-Williams
(Composer)
Much in demand as a composer, conductor and musician, Harry Gregson-Williams most recently earned a Golden Globe nomination for his score for The Chronicles of Narnia:The Lion, The Witch and The Wardrobe. He also worked with Joel Schumacher on the films Phone Booth and Veronica Guerin. Among his many film scores are those for Shrek, Shrek 2, Domino, Kingdom of Heaven, Bridget Jones: The Edge of Reason, Team America: World Police, Man on Fire, The Rundown, Spy Kids, Chicken Run, Light It Up, Antz and Enemy of the State.
» Send to friend
---
« Newer article
|
Overview
|
Older article »