Mr. Popper's Penguins
Page 2 of 5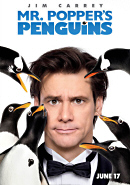 What's it about
Growing up in Brooklyn, New York, young Tommy Popper looks forward to the moments when, on his tiptoes to reach a ham radio in his bedroom, he can talk to his world-traveling father. Years later, Tommy is now Mr. Popper (Jim Carrey), a highly successful real estate developer in Manhattan. Amicably divorced from Amanda (Carla Gugino), with two children (Madeline Carroll and Maxwell Perry Cotton) he sees on alternate weekends, Mr. Popper lives the life of luxury in his ultra-modern Park Avenue apartment and is well on his way to becoming partner at his prestigious firm. That is, until the morning a final gift from Popper's late father, a souvenir from Antarctica, arrives in a crate at Popper's front door.
Inside the wooden box, nestled amongst ice packs, is a two-foot tall penguin with bright orange feet. Not a toy penguin, or a stuffed bird from the taxidermist, as Popper at first assumes, but a real, live penguin, who scampers across Popper's floor and emits loud honks. Eager to be rid of this wild creature, Popper contacts every city and state agency imaginable, but no one is willing to take a pet penguin. His call to Antarctica to try to ship the bird back instead results in the arrival of another five penguins at Popper's door.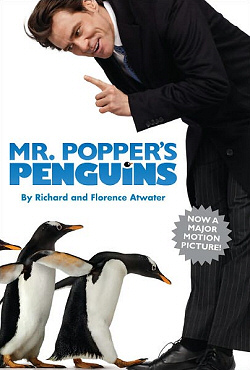 As he gets acquainted with - and increasingly attached to - his winged roommates, Popper's life quickly unravels: his swanky New York apartment is turned into a snowy winter wonderland, the deal he's long been working on is derailed, and he almost lands in jail. But thanks to his new charges, Popper comes to understand the importance of family - human and otherwise.
Credits
Production Companies
Davis Entertainment
Centro Digital Pictures
Twentieth Century Fox Film Corporation
Distributor
20th Century Fox
Director
Mark Waters
Writers
Sean Anders
John Morris
Jared Stern
Producer
John Davis
Associate producer
Linda Hill
Co-producers
Jonathan Filley
Ira Napoliello
Executive Producers
Jessica Tuchinsky
Mark Waters
Derek Dauchy
Joel Gotler
Composer
Rolfe Kent
Cinematographer
Florian Ballhaus
Editor
Bruce Green, A.C.E.
Cast List
Jim Carrey
Carla Gugino
Angela Lansbury
Ophelia Lovibond
Madeline Carroll
Clark Gregg
Jeffrey Tambor
David Krumholtz
Philip Baker Hall
Maxwell Perry Cotton
James Tupper
Dominic Chianese
William C. Mitchell
Henry Keleman
Kelli Barrett
Dylan Clark Marshall
Brian T. Delaney
Elaine Kussack
Harlin C. Kearsley
Desmin Borges
Lee Moore
Dominic Colón
Jeff Lima
Frank Cornei
J.R. Horne
Matthew Wolf
Andrew Stewart-Jones
James Chen
Rafael Osorio
Curtis Shumaker
Joseph D'Onofrio
Olga Merediz
Betsy Aidem
Angel L. Cabán
Chris Beetem
Charles L. Campbell
Daniel Stewart Sherman
Mike Massimino
Charlie Semine
..... Mr. Popper
..... Amanda
..... Mrs. Van Gundy
..... Pippi
..... Janie
..... Nat Jones
..... Mr. Gremmins
..... Kent
..... Franklin
..... Billy
..... Rick
..... Reader
..... Yates
..... Young Tommy Popper
..... Tommy's Mom
..... Young Tommy Popper #2
..... Voice of Young Tom Popper, Sr.
..... Gremmins's Secretary
..... Town Car Driver
..... Daryl
..... Reginald
..... Tito
..... Freddy
..... Klaus
..... Arnold
..... Voice of Antarctic Friend
..... Animal Control Guy
..... Fish & Game Officer
..... Marine & Waterfowl Officer
..... Sanitation Officer
..... Random Man on Street
..... Nanny
..... Tavern Hostess
..... Fishmonger
..... Young Developer
..... Voice of Old Tom Popper, Sr.
..... Zoo Security Guard
..... Cop #1
..... Cop #2 (Quint)
Movie Quotes
Tom Popper:
Dear Lord, thank you for the food we are about to eat. Please use your mighty power, to stop the melting of the polar ice caps. Amen.


Tom Popper:
I'm not coming into work today, because I have a pest problem!


Tom Popper:
Can you pass the salt!


Tom Popper:
I am a dream weaver pippy. Make them believe in a dream and they will buy anything.


Tom Popper:
I don't like you... I don't need you... I don't want you in my life...


Tom Popper:
A stuffed penguin!


Tom Popper:
Don't get too cozy in there penguin. As soon as I come home, you are going where you came from.


Zoo Security Guard:
Mr. Popper! Give me the birds.
Tom Popper:
Can't actually take the penguins right now. My kids are crazy about them.


Reader:
You really topped yourself Popper.
Tom Popper:
Yabsolutely.


Tom Popper:
Why are you hitting yourself? That's not attractive for a zoo official.


Tom Popper:
Hey kids check this out!!
[Dancing with penguins to the tune of Ice Ice Baby]
In.
Shuffle - fall - step
Shuffle - fall - lunge
Step - ball - change,
Step - ball - change,
Step - ball - change,
Word.
Taglines
Coming soon..
« Previous
|
1
|
2
|
3
|
4
|
5
|
Next »