Peggy Sue Got Married
Page 2 of 5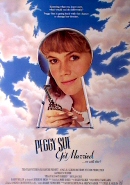 What's it about
The film tells the poignant story of Peggy Sue Bodell (Kathleen Turner). She's a 43-year-old housewife on the verge of a divorce from Charlie (Nicolas Cage), an obnoxious philanderer who is locally famous for his tacky TV commercials for his retail appliance business. Peggy Sue squeezes into her old prom dress and goes to her 25th high school reunion to meet all her old friends from James Buchanan High. Subsequently named queen of the reunion, she ascends the podium to accept her crown, and passes out. Tossed into a time warp, she awakens in 1960, a 43-year-old consciousness in an ostensibly 17-year-old body. This feat requires a suspension of disbelief on the part of the audience but Turner pulls it off admirably. The film asks a powerful question: If we had a chance to go back and do it all again, would we do it the same way? Or would we rewrite our lives to create a new outcome?
In 1987, the film got 2 Golden Globe Nominations for Best Motion Picture - Comedy/Musical and Best Performance By An Actress In A Motion Picture - Comedy/Musical: Kathleen Turner. And 3 Academy Award Nominations for Best Actress: Kathleen Turner, Best Cinematography: Jordan Cronenweth and Best Costume Design: Theadora Van Runkle.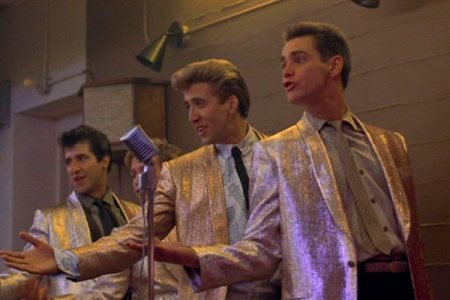 © TriStar Pictures
Credits
Production Companies
Delphi V Productions
TriStar Pictures
Zoetrope Studios
Distributor
TriStar Pictures
Director
Francis Ford Coppola
Writers
Jerry Leichtling
Arlene Sarner
Producer
Paul R. Gurian
Executive Producer
Barrie M. Osborne
Composer
John Barry
Cinematographer
Jordan Cronenweth
Editor
Barry Malkin
Cast List
Kathleen Turner
Nicolas Cage
Barry Miller
Catherine Hicks
Joan Allen
Kevin J. O'Connor
Jim Carrey
Lisa Jane Persky
Lucinda Jenney
Wil Shriner
Barbara Harris
Don Murray
Sofia Coppola
Maureen O'Sullivan
Leon Ames
Randy Bourne
Helen Hunt
Don Stark
Marshall Crenshaw
Chris Donato
Robert Crenshaw
Tom Teeley
Graham Maby
Ken Grantham
Ginger Taylor
Sigrid Wurschmidt
Glenn Withrow
Harry Basil
John Carradine
Sachi Parker
Vivien Straus
Morgan Upton
Dr. Lewis Leibovich
Bill Bonham
Joe Lerer
Barbara Oliver
Martin Scott
Marcus Scott
Carl Lockett
Tony Saunders
Vincent Lars
Larry E. Vann
Lawrence Menkin
Daniel R. Suhart
Leslie Hilsinger
Al Nalbandian
Dan Leegant
Ron Cook
Mary Leichtling
..... Peggy Sue Kelcher/Peggy Sue Bodell
..... Charlie Bodell
..... Richard Norvik
..... Carol Heath
..... Maddy Nagle
..... Michael Fitzsimmons
..... Walter Getz
..... Delores Dodge
..... Rosalie Testa
..... Arthur Nagle
..... Evelyn Kelcher
..... Jack Kelcher
..... Nancy Kelcher
..... Elizabeth Alvorg
..... Barney Alvorg
..... Scott Bodell
..... Beth Bodell
..... Doug Snell
..... Reunion Band
..... Reunion Band
..... Reunion Band
..... Reunion Band
..... Reunion Band
..... Mr. Snelgrove
..... Janet
..... Sharon
..... Terry
..... Leon
..... Leo
..... Lisa
..... Sandy
..... Mr. Gilford
..... Dr. Daly
..... Drunk
..... Drunk creep
..... Nurse
..... The Four-Mations
..... The Four-Mations
..... The Four-Mations
..... The Four-Mations
..... The Four-Mations
..... The Four-Mations
..... Elderly gentleman
..... Chinese waiter
..... Majorette
..... Lodge member
..... Lodge member
..... Lodge member
..... Reunion receptionist
Movie Quotes
| | |
| --- | --- |
| Walter Getz: | Just call me Walter the dancing dentist. Taps and caps. My specialty. |
| Walter Getz: | The best thing about being a dentist. Pure pharmaceutical grade. Couple of lines of this, I could drill my own teeth. |
| Walter Getz: | I demand a recount. |
| Walter Getz: | Why does your father take inventory on Sunday night? That's poker night. You always got out of it before. |
| Walter Getz: | Put on some make—out music, and kill the lights. |
| Walter Getz: | The Yanks got the hitting but the Sox got the defense. |
Tagline
Knowing what you know now, what would you do differently?
« Previous
|
1
|
2
|
3
|
4
|
5
|
Next »