HOW JONATHAN NOSAN HELPED THE GRINCH STEAL CHRISTMAS
By BCDavis & MTMoura
Do you think stealing Christmas from all those Whos is an easy task?? It sure isn't! But with a little help from Jonathan Nosan no mission is truly impossible. Nosan is a 29 year old contortionist and aerialist whose amazing body bending abilities valued him a contract as Jim Carrey's stunt double in "Dr. Seuss' How The Grinch Stole Christmas." Contacted by JCO, Jonathan very kindly agreed to concede us an e-mail Q&A regarding his work on the "Grinch."
What made you become a contortionist?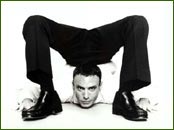 JN: After graduating from UC Berkeley in Asian Studies I spent two years in Japan on a Fulbright doing research. I was pretty much an academic who had always done magic and juggling shows since about 13 years old. While in Japan I started studying more dance, movement, yoga and little by little started challenging my body and abilities more and more. Towards the end of my studies in Kyoto I went to see Cirque du Soleil's "Saltimbanco" in Tokyo and that cinched the decision of whether to return to the US to continue academia or follow an artistic acrobatic passion that was slowly brewing. On the recommendation of one of the Saltimbanco performers I met after the show, I left Kyoto for London the next month to begin my physical theater training at École Philippe Gaulier and began circus training at the Circus Space. After a year in London I moved on to the San Francisco School of Circus Arts where I trained traditional Chinese contortion with Master Lu Yi for three years. I now live in New York City, and no--I am not double jointed.
Could you clarify what you did concerning the "contortion scene" during the film? Since we haven't seen the footage, this would help immensely.
JN: At one point, the Grinch breaks into the Mayor of Whoville's house to steal some more Christmas; however, after he gets in he finds a laser security system similar to the "Entrapment" set up where Catherine Zeta-Jones has to wind in and out of the beams to steal the gold mask. Here however it's a bit more "hairy" and only a Grinchy contortionist could bend and slither through... that's where I came in to play. In the trailer you see Jim Carrey (or me?) tinkling along on his fingertips on the ground which leads into the "Contortion Scene".
Was there any stunt really dangerous that you had to perform?
JN: While no stunt was particularly dangerous the number of takes definitely took a toll on the body.
How long did it take to get into costume and makeup? How uncomfortable was it to wear that makeup? Was it too hot? And heavy? Could you see well with the contact lenses?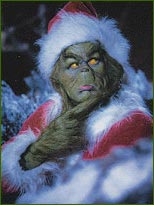 JN: Make up began at 6am and took about 3.5 hours to apply. Its an amazing transformation... you kind of zone out while its happening and then open your eyes and suddenly your face is gone and there in the mirror is the Grinch. Because it all forms so tightly to the face at times you forget its on until you catch a glimpse in the mirror, or wonder why everyone is staring at you. The make up and the suit were very hot and binding; luckily during the shoot there were massive blowers, which looked like the kids tunnel toys to bring the temperature down. During all the contorting I would be sweating like crazy under the prosthetics but of course the sweat just built up under the rubber until it would slowly seep through the seams much to the chagrin of the make up artists. The costume itself required a lot of re-working of my movements as the big stomach, floppy "boobs", long hairy fingers and feet throw off a lot the balances which I do... always up for a challenge. The lenses were definitely far far far from cozy on the eyes... I give Jim Carrey a lot of credit for putting up with them for so long.
Do you think the movie is going to be faithful to Dr. Seuss' world?
JN: Yes... walking onto the set was like walking into his book or cartoon. While the story has been expanded I think everyone is going to love it and be in for a real surprise.
Was working with Ron Howard and Jim Carrey an enjoyable experience?
JN: Absolutely. Both were great to work with and treated me very well.
How would you rate Jim Carrey on an acrobat/contortionist scale?
JN: He's an amazing physical comedian and I'd say one of the best "Facial Contortionists" around.
Were there any funny moments on the set that especially stick out in your mind?
JN: The funniest thing of the whole thing was that Jim Carrey and I never met out of our Grinches. When we were introduced to each other it was like looking in the mirror and became funny when people mistook me for him... I guess that's why they call it a stunt Double, right?
What other movies/shows have you worked on?
JN: After "Grinch" I worked on "The Cell" with Jennifer Lopez where I doubled Vincent D'Onofrio. I've appeared on "The Tonight Show", "Sex and the City", "Nash Bridges", and have done a lot of print and industrial work which can be seen on my website at www.acroback.com.



Copyright © 2000 by JIM CARREY ONLINE. Mr. Nosan's photo by Daniel Perry. Movie still © Universal Studios.