Ace Ventura: Pet Detective
Page 2 of 5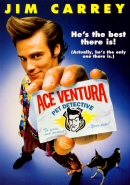 What's it about
He takes his place among the best and brightest in the pantheon of great detectives: from Sherlock Holmes and Hercule Poirot to Miss Marple and Inspector Clouseau. He is Ace Ventura: Pet Detective. He's the finest pet detective there is -- in fact, he's the only one there is.
When the disappearance of Snowflake, a bottle-nosed dolphin who's the official mascot of the Miami Dolphins football team, confounds the local authorities on the eve of the Super Bowl, there proves to be only one man with just the right credentials, only one man with just the right intuition, only one man who knows the difference between a dolphin and a porpoise...Ace Ventura. And when the dolphin-napping is followed by the vanishing of star Dolphins quarterback Dan Marino -- everyone needs Ace on the case.
Shunned by Miami police for not being a legitimate sleuth, the ingenious creature catcher relies solely on his wits and the undying dedication of his menagerie to get the job done. A combination of Jerry Lewis and Doctor Doolittle, the bumbling Ace always gets his man (or dog, or cat or parrot).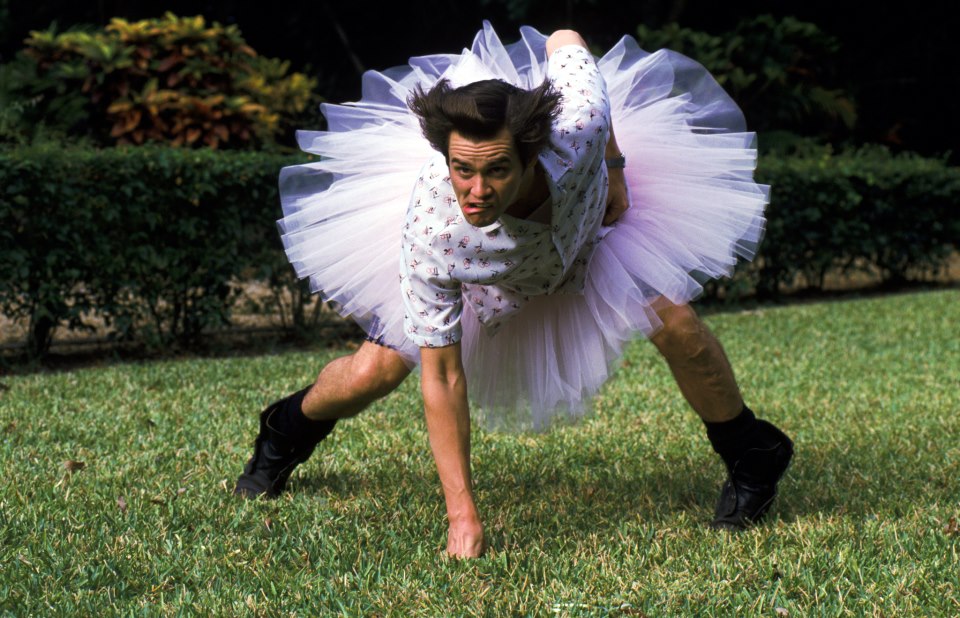 © Warner Bros. Pictures
Melissa Robinson (Courteney Cox), the Dolphins' marketing director, is saddled with the task of solving the twin kidnappings. To team owner Don Riddle (Noble Willingham), nothing's riding on Melissa's success -- except (in order of importance) the Super Bowl, the lives of two mammals dear to his heart -- one an All-Pro quarterback, the other a member of an endangered species -- and, oh yes -- Melissa's job.
In desperation, Melissa turns to Ace, who looks like he dresses in the dark, who eats sunflower seeds like a parrot and whose hairdo looks like a cross between Bob's Big Boy and the tail end of a cockatoo. He's not very confidence-inspiring and she's sure she's about to become unemployed.
Ace alternately shows moments of stunning detective work and total incompetence. Here's Ace, turning up a clue the police missed: the stone from an AFC Championship ring found in the bottom of Snowflake's now-empty tank. Here's Ace, making a fool of himself and Melissa as he tries in vain to link the wealthy Ronald Camp (Udo Kier) to the crime. Here's Ace, sniffing clues like a bloodhound at the scene of Dolphins' general manager Roger Podacter's (Troy Evans) murder. And here's Ace, following Dolphins players down highways, around running tracks and...into the showers?...trying to match the missing stone to their championship rings.
In the end, though, it can only be Ace Ventura who realizes that the kidnappings and murder center on a missed field goal in the 1984 Super Bowl and that the mysterious Lt. Einhorn (Sean Young) may have ulterior motives in trying to sabotage his investigation. And, in the end, it can only be Ace Ventura, who solves the murder, rescues Snowflake, returns Dan Marino to his rightful place in the Super Bowl -- albeit at halftime -- and wins the heart of the beautiful Melissa.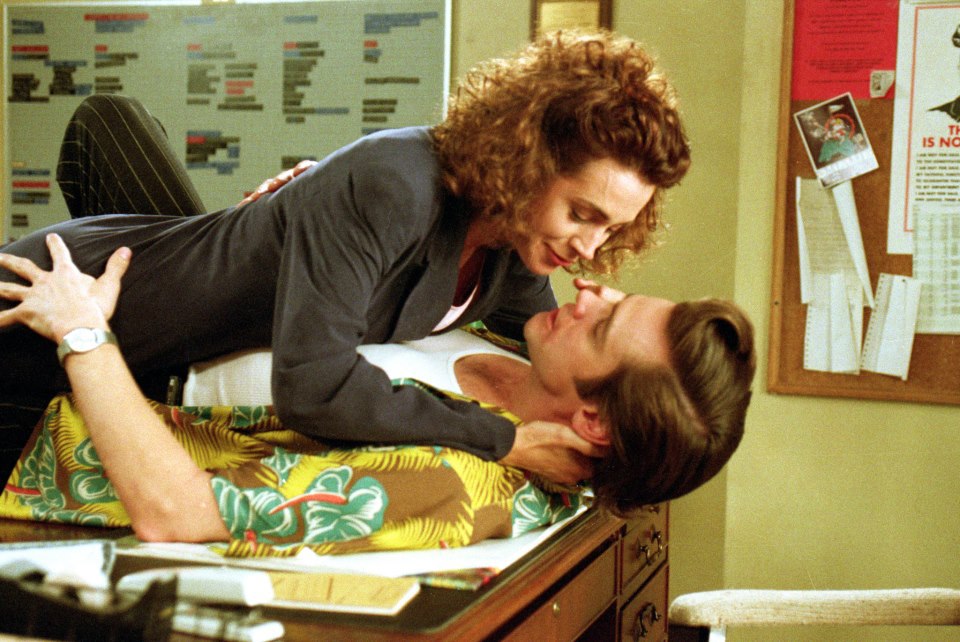 © Warner Bros. Pictures
Jim Carrey, known for his comic energy and the spectrum of outrageous characters he has created on the Emmy Award-winning comedy series "In Living Color," makes his motion picture starring debut in "Ace Ventura: Pet Detective," a broad comedy from Morgan Creek Productions. The screenplay, written by Jack Bernstein, Tom Shadyac and Jim Carrey, was directed by Tom Shadyac and produced by James G. Robinson with Gary Barber serving as executive producer.
The cast includes Tone Loc ("Posse," "Poetic Justice"), Dan Marino, who plays himself, and Udo Kier (Andy Warhol's "Dracula"), as well as veteran character actors Troy Evans ("Under Siege") and Billie Bird ("Home Alone").
The technical crew includes Julio Macat as director of photography and Don Zimmerman as film editor. The production designer was Bill Elliottt and Bobbie Read designed the costumes. Bob Short created the special dolphin effects. Warner Bros. is distributing "Ace Ventura: Pet Detective" domestically through its ongoing agreement with Morgan Creek.
International distribution will be overseen by Morgan Creek International.
Review
Reviewed by MTMoura
"Ace Ventura, Pet Detective"... ah, the memories this movie brings. You know, I've a small confession to make. When I first saw the "Ace Ventura" trailer at one of the local theaters, I thought "What the hell is this?! I won't be caught dead seeing this!" And I wasn't. (Time jump to the period when the first "Mask" rumors started.) All the buzz surrounding the movie and its leading man, stirred my curiosity up to the point were I just had to go to the nearest video store and rent the Ace movie.
So I installed myself comfortably, started the tape, the Morgan Creek logo passed and suddenly there was this (okay, I need to say it) cute guy dressed in a uniform, banging a fragile labeled package in every possible, imaginable way. I admit I was a bit lost for a moment there, but by the time he pulled the small dog from inside his shirt, something clicked in my head, everything made an amazingly comic sense and I knew that Jerry Lewis finally had a worthy successor.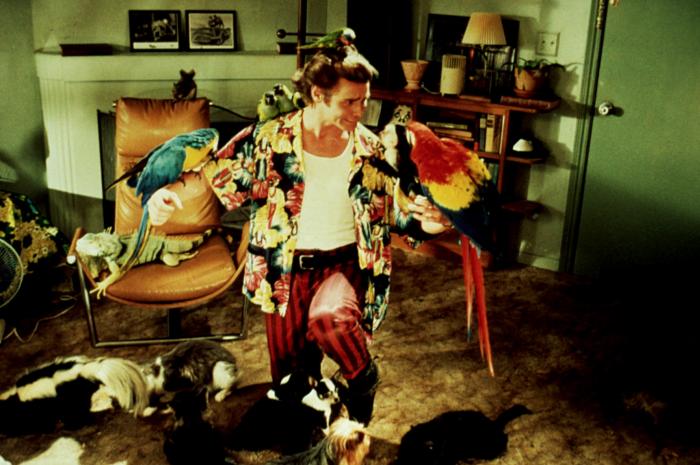 © Warner Bros. Pictures
Ace Ventura is just one of those characters that only from time to time spring to cinematic life, possessing an instant appeal to the public. This has nothing to do with the existence or not of a solid plot line, but with the fact that Ace, in his very peculiar way, fulfills the spectators' desire for perfection. You instantly know that, no matter how messy things may be around him, and how incompetent he may sometimes look, he'll end up by finding a way to come out a winner. Guys wouldn't mind being like him and gals, well, lets say that this kind of confidence can indeed be very charming.
Besides all this pseudo-Freudian stuff, Carrey as Ace Ventura, is plain and simply f-u-n-n-y. There are lots of innovative sight gags and some of them are done in such a nonchalant way, that I'm still unable to decide if they were carefully planned to give that impression or a result of Carrey's on-the-spot improvisation genius.
One of the movie's best moment is the insane asylum scene "Let's see that in instant replay", where Carrey first plays the scene in mock slow motion, repeating then everything backwards. The other is a wonderful sequence of hilarious gags (there's practically no dialogue whatsoever), during which Ace tries to check all the players' rings, in search for the missing stone.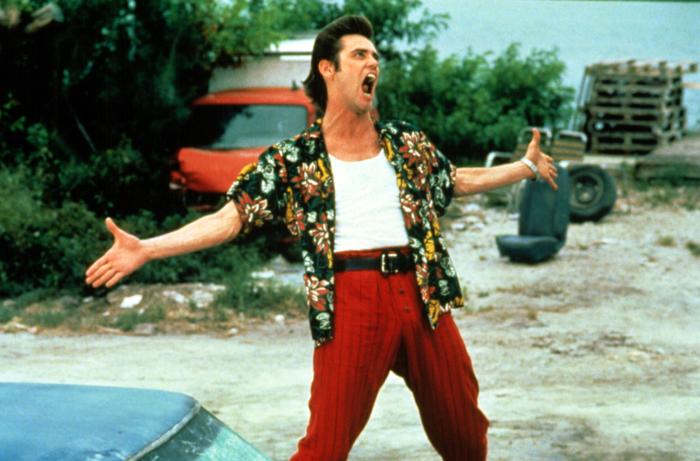 © Warner Bros. Pictures
Tom Shadyac's penchant for visual comedy, made him a suitable director for Carrey. Courtney Cox, even if her character is almost reduced to zero, managed to bring some sweetness to the movie and, now and then, an agreeable change of pace. However, the best counterpart to Carrey's atomic energy-powered Ace is, no question, Sean Young's character. The sassiness Young gave to Lieutenant Heinhorn, made of her (him?), Ace's worthy opponent and brought an extra spark to the movie.
Ace Ventura is the most recent pop icon given to us by Hollywoodland and like all the others, has already developed a life of its own. So, if years from now I'll still hear someone, somewhere, yelling at full lungs a mean "Aaaaaallllriiiighty then!!!!", I will not be surprised at all.
Credits
Production Companies
Morgan Creek Productions
Warner Bros. Pictures
Distributor
Warner Bros. Pictures
Director
Tom Shadyac
Writers
Jack Bernstein
Tom Shadyac
Jim Carrey
Producer
James G. Robinson
Executive Producer
Gary Barber
Composer
Ira Newborn
Cinematographer
Julio Macat
Editor
Don Zimmerman
Cast List
Jim Carrey
Courteney Cox
Sean Young
Tone Loc
Dan Marino
Noble Willingham
Troy Evans
Raynor Scheine
Udo Kier
Frank Adonis
Tiny Ron
David Margulies
John Capodice
Judy Clayton
Bill Zuckert
Alice Drummond
Rebecca Ferratti
Mark Margolis
Antoni Corone
Margo Peace
Randall 'Tex' Cobb
Henry Landivar
Florence Mistrot
Robert Ferrell
Will Knickerbocker
Gary Munch
Terry Miller
John Archie
Cristina Karman
Tom Wahl
Herbert Goldstein
Chaz Mena
Manuel L. García
Don Shula
Scott Mitchell
Peter Stoyanovich
Dwight Stephenson
..... Ace Ventura
..... Melissa Robinson
..... Lt. Lois Einhorn/Ray Finkel
..... Emilio
..... Himself
..... Riddle
..... Roger Podacter
..... Woodstock
..... Ron Camp
..... Vinnie
..... Roc
..... Doctor
..... Aguado
..... Martha Mertz
..... Mr. Finkle
..... Mrs. Finkle
..... Sexy Woman
..... Mr. Shickadance
..... Reporter #1
..... Reporter #2
..... Dog owner
..... Burnout
..... Neighbor
..... Carlson
..... Manager
..... Director
..... Assistant Director
..... Reporter #3
..... Reporter #4
..... Reporter #5
..... Crazy Guy
..... Another Cop
..... Dolphin Trainer
..... Himself
..... Miami Dolphin
..... Himself
..... Himself
Movie Quotes
| | |
| --- | --- |
| Ace Ventura: | I have a package for you, sir. |
| Man: | Sounds broken! |
| Ace Ventura: | Most likely. I bet it was something nice, though! |
| Ace Ventura: | If I'm not back in five minutes... just wait longer. |
| Ace Ventura: | It's ALIVE. IT'S ALIVE. |
| Melissa: | Hi, I'm Melissa Robinson. |
| Ace Ventura: | Pleasure to meet you. |
| Melissa: | Did you have any trouble getting in? |
| Melissa: | No, the guy with the rubber glove was surprisingly gentle. |
| Ace Ventura: | Holy testicle Tuesday. |
| Ace Ventura: | Hey, maybe I'll give you a call sometime. Your number's still 911? All righty then. |
| Ace Ventura: | Good to see someone who doesn't buckle under the pressure. |
| Lois Einhorn: | And what would you know about pressure? |
| Ace Ventura: | Well, I have kissed a man. |
| Ace Ventura: | Warning! Assholes are closer than they appear! |
| Ace Ventura: | I just visited Ray Finkle's place |
| Lois Einhorn: | And? |
| Ace Ventura: | Cozy, if you're Hannibal Lecter! |
Taglines
He's the best there is! (Actually, he's the only one there is.)
« Previous
|
1
|
2
|
3
|
4
|
5
|
Next »