The Oprah Winfrey Show
Page 2 of 2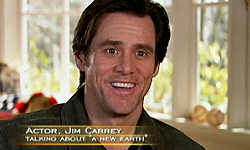 Transcript
Jim Carrey and Jenny McCarthy talk about Eckhart Tolle's philosophy in A New Earth, and explain what it means to them.

Jim Carrey: Eckhart's filosofie is basicly about the idea that the present moment is all we have. Most of us live trapped or lost in the movement of thought.

Sometimes I've spent two hours of my day thinking about one person I resent and going through orations and [thinking], 'If he ever says this, I'll say that,'.

I find myself now, when I get caught up in something like that, becoming conscious suddenly and going, 'Oh, wait, I'm here. I'm not with that person right now. I'm creating things that don't even exist.' It's useless. It's time badly spent.
« Previous
|
1
|
2