The Oprah Winfrey Show
Page 2 of 2
Transcript
"I loved this script, because everybody screams at God in some way or another. Everybody can get to that point, no matter what you have. You're sitting in front of a banquet going, 'There's no cranberries! God, if there's no cranberries, then this banquet is nothing!'" — Jim Carrey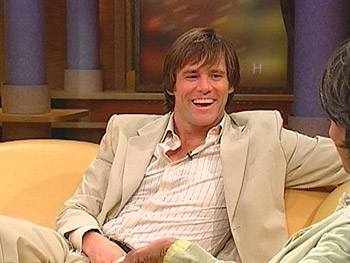 He definitely has the almighty power to make us laugh—it's Jim Carrey! Sporting a hot new look and starring in the new comedy Bruce Almighty, he's funnier than ever!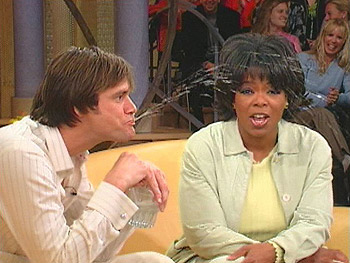 While Oprah attempts to go to a movie clip, Jim interrupts her by turning into a human fountain.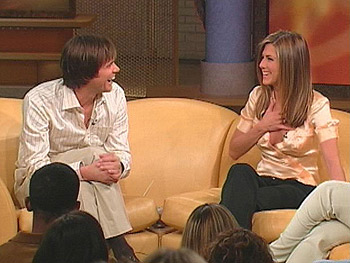 Last summer, Jennifer Aniston got impressive reviews for her role in The Good Girl. Now, she's back on the big screen as Jim Carrey's loyal girlfriend Grace in Bruce Almighty!
Jim gives Jennifer some last minute advice before she answers her first question from Oprah. "Careful, she'll pry you open!"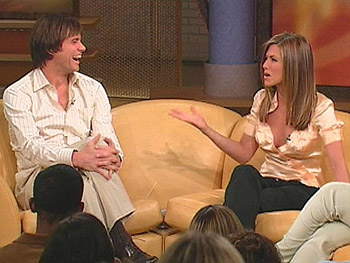 Being the superstar that she is, everybody wants Jennifer's hairstyle, her wardrobe and her favorite beauty products. What's that like for her?
"It's very surreal. The media...they put [me] in the magazines and make people go, 'I can't live without that!' Or, 'I have to look like that!'" Jennifer scoffs, "I barely had the outfit for crying out loud. It's just all a big mirage!"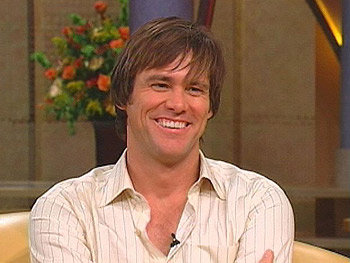 Jim says that his parents were lovely people, but not the healthiest people. "My mother smoked like a fiend, so I smoked like a fiend. I smoked a lot, and my mother and father both smoked until the walls turned brown," says Jim.
Good news: Jim quit smoking cold turkey and is training for a marathon!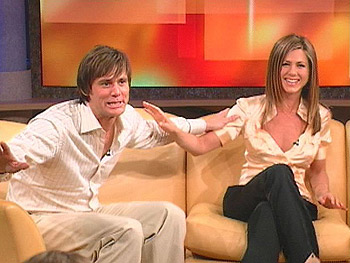 It's a good thing Jim's taking better care of his body! In their new movie, Jim and Jennifer have a steamy sex scene so risqu? we couldn't even show the clip!
"It's very, very hot," warns Jim. "It's extremely sexual."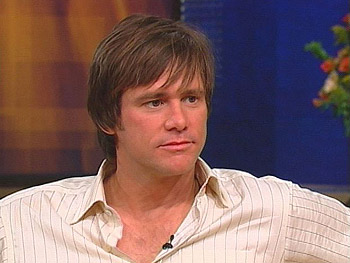 If Jim is this wild in his waking hours, what does he dream about?
"It's just me running from an unknown entity. I hit the ground every night. I fall, I die, I have a funeral and I'm sitting there going 'Gee, I should be waking up?'" But there's a serious side to Jim, too: "My life is a dream. It really is. It truly is a great life. I'm blessed."
Even though he's a busy actor, Jim loves his hobbies. He recently took a cross-country motorcycle trip with friends, stopping for a visit at Graceland. And as you can see, Jim has also become something of a shutterbug, snapping up shots with his digital camera. When Jim's here, anything can happen!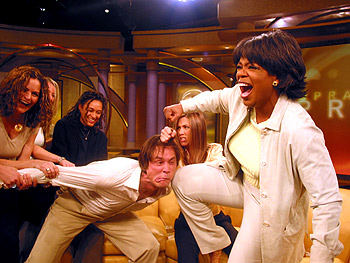 When Jim asks if he can take a picture of Oprah and Jennifer, they start to pose, but Jim has another plan in mind! He even lets some audience members in on the fun!
Oprah sums it up: "You are so nuts! That's fantastic!"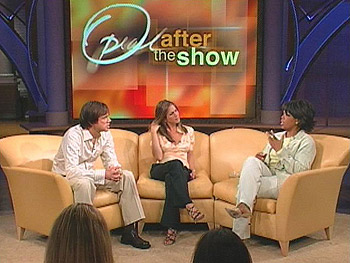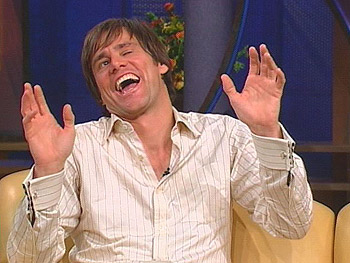 Jim says that the paparazzi don't bother him too much, but he doesn't always love the way they capture him! "They're covering you from every angle, and you can't possibly look good from every angle. It makes you self-conscious. It's always one thing, or they catch you mid-laugh and one of the eyes is closed..."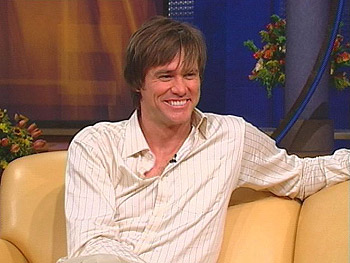 Jim's next project is a film called A Series of Unfortunate Events. Based on the popular children's book series by Lemony Snicket, the film will feature Jim as the evil Count Olaf. Jim begins filming this fall.
Another way Jennifer keeps her figure is through Pilates, which lengthens and stretches the muscles. Not Jim, though. "I tried it for a little bit. I just felt really effeminate. It's all this posture stuff," he says, imitating the stiff walk of his Pilates instructor.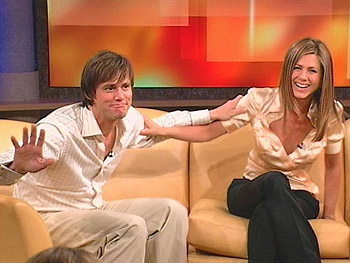 Oprah Winfrey: Would you say your comedy has matured over the years?
Jim Carrey: 'Comedy' and 'mature' are two separate things. They should never be said in the same sentence!
Jennifer Aniston: I think he's matured… it has to evolve. Anything does. As he's evolved, the comedy has evolved. It never gets boring, and it's always interesting.
« Previous
|
1
|
2