Frequently Asked Questions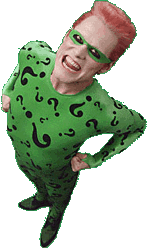 Question: Is that actually Gavin MacLeod in "Ace Ventura"?Answer:
This question concerns the scene in 'Ace' where a white uniformed lackey opens the door of a billionaire's mansion and Carrey says "Hello Captain Steubing, how are Gopher and Doc?" I had to do a lot of research to answer this question. (I actually had to get the video out, make sure that no one had rewound it, run the end credits and freeze frame it from time to time. What I go through for pure research.) I determined that since Gavin MacLeod's name is not in the credits that he was probably not in the movie.
I understand that the above explanation was not good enough for some people. (If you can't trust something you read on the internet, what can you trust?) So, I checked with the
Internet Movie Database,
and got the cast list from the press kit and checked again. It turns out that, at a $15 million dollar budget, the producers could not afford a star of Mr. MacLeod's magnitude. Okay now???
« Previous Answer
Back to overview
Next Answer »