Frequently Asked Questions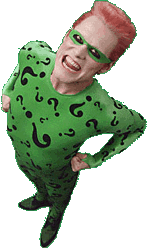 Question: Has anyone in alt.fan.jim-carrey ever actually met Jim Carrey?Answer:
Oh heck yes! We have heard from half dozens of people who have met and even worked with Mr. C. We have also heard from fans who have bumped into the gent while he was filming or out walking or whatever. All rather pleasant encounters and nothing that the National Enquirer would be interested in. (Not that we'd tell them anything anyway. They'd just mess it up.)
Jasontee reported to us that he met Carrey off the set of "
Dumb & Dumber
". Read his note below to see what happened:
Click on pictures to see enlarged version of photo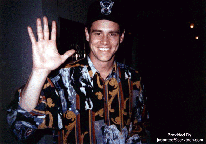 © 1994 Jason Tee. Used with Permission
These pictures were sent to Jim Carrey Online by JasonTee. His explanation for them appeared in alt.fan.jim-carrey as follows:
"I was just reading in the FAQ about Jim Carrey on one of the Web pages and it said that as far as anyone knew, no one in this newsgroup has ever met Jim in the flesh. Well, that is no longer true!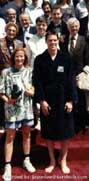 I met Jim for a short (very short) time when he was filming "
Dumb & Dumber
". I was staying at the hotel where they were filming one of the scenes. (The hotel where they pull up in the Ferrari and dump all the gifts out of the door.)
Anyways, the real name of the hotel was the Stanley in Denver Colorado. (The same Hotel that they filmed
The Shining
in) It was filmed in the middle of the summer, but they were able to transform the Stanley into the Dansbury (SNOW AND ALL!).
There was an "inventors convention" there at the same time they were filming, and at the end of the convention, all the scientists were out for a group photo and all of a sudden, "Wait! I can't miss this!" Jim Carrey shouts as he comes running out of the Hotel in his Arsenio Hall bathrobe, no shoes, and as far as I know, no clothes under the robe to get his picture taken with all the scientists!
I also have a picture of him waving to us as we took his picture in the hallway of the hotel after a day of shooting. (Cracked tooth and all!)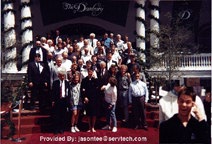 Oh, anyways, I did get his autograph and shook his hand! So I not only met him, I actually came in contact with him. Cool.
Beyond that, we did hear from someone who said they went to grade school with Mr. Carrey, but I had my doubts about the authenticity of that letter. (The author couldn't spell. If there is one thing that people who come out of Catholic grade school can do it's spell. Disregarded for lack of proof.)
« Previous Answer
Back to overview
Next Answer »