Frequently Asked Questions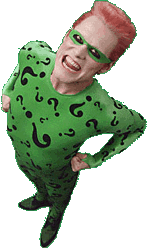 Question: Did Jim Carrey leave his wife after "Ace Ventura: Pet Detective" came out? Did he dump his marriage when Lady Fortune came calling?Answer:
I hate this question. It pre-supposes that I actually have a right to know this much personal info on someone. But the damn question comes up as regularly as weeds in the spring, so it should probably be answered. Sigh!
Based on documents in the public domain (i.e., Probate Court), Jim and Melissa Carrey separated sometime during the filming of "
Ace Ventura: Pet Detective
" in 1993. (Jim claimed, originally, that the separation occurred in June 1993, Melissa claimed it occurred sometime later.) Jim Carrey officially filed for divorce from his wife in November of 1993. "
Ace Ventura: Pet Detective
" was released in February of 1994, when Carrey was already legally separated from Melissa. Their divorce was finalized (after considerable financial wrangling) in August of 1995. Details were sealed by the court. (But apparently everybody was happy afterwards. Carrey and his ex-wife are apparently on speaking terms again and cooperate in raising their minor child.)
The other part of this question concerns whether or not Carrey left his wife for Lauren Holly. Actually, the two didn't start dating until May/June of 1994. (Carrey had met the actress during the auditions for "
Ace Ventura: Pet Detective
" when Holly tried out for the role that Courtney Cox eventually played. ) Holly briefly dated Tom Shadyac, Ace's Director, but didn't hit it off with Carrey until a year later. (This info comes from the Rolling Stone article on Carrey that ran in July 1995. That article heavily quoted Melissa Carrey who also stated that Carrey didn't dump her for another woman. Their marriage broke up for a number of reasons and fame and stardom did play a part. ) There, now don't you feel awful. Shame on you for asking those 'Hard Copy' kind of questions.
« Previous Answer
Back to overview
Next Answer »