Frequently Asked Questions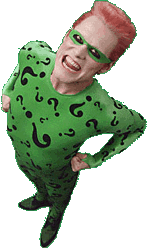 Question: Has Jim ever done a porno flick?Answer:
(sigh) Don't you have a dirty mindů I suppose "All in Good Taste" could be considered a light porn film because of what is shown. Jim has said, though, that this film was a "youth mistake." No kidding there, Jim...
See also:
Has Carrey ever done a porno flick?
What other movies has Carrey done? Anything embarrassing from his early career?
« Previous Answer
Back to overview
Next Answer »