Frequently Asked Questions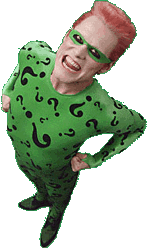 Question: Are Jim's films appropriate for younger children?Answer:
Good Q. Our advice is to heed the rating of each respected film. Most of the humor is physical (and sometimes called "toilet humor"). There is some sexual humor, some violence, etc. Check for reviews of each film on the Net, papers, TV, whatever. Parents, view the film without the kids first. Check out JCO for in-depth information, too.
See also:
Are Carrey's films appropriate for children?
« Previous Answer
Back to overview
Next Answer »