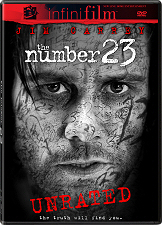 Jim Carrey Online is proud to bring you the Number 23 contest. Five (5) copies of the Number 23 DVD sponsored by New Line / Big Honcho Media. The contest is open to legal residents of the United States.
Beginning today (July 20, 2007) and ending on Friday, August 10, 2007, simply send an email to JCO at
tommypihl@jimcarreyonline.com
. (Only one entry per person).
Your e-mail
must
include:
- Your email address
- Your full name
- Your physical mailing address
- Why you should win the contest
A drawing will be held on Saturday, August 11, 2007. The five lucky winners will receive their own copy of the Number 23 DVD. Winners will be announced on the site and will be notified by e-mail. The DVDs will be shipped to the winners by Big Honcho Media who is handling the promotion for New Line Home Entertainment.
Good luck!
SYNOPSIS
Walter Sparrow (Jim Carrey) is just an ordinary dog catcher living an ordinary life when certain seemingly random events lead him to a book called
The Number 23
by Topsy Krets. The fictional story interlaces a crime drama with a conspiratory look at the magical number 23. Walter is amused by the similarities between the main character named Fingerling, and himself. However, when the book continues to be eerily similar to his life, Walter becomes obsessed with finding out why. When Fingerling murders the leading lady in a fit of passion, Walter must figure out what is real…and what is fiction.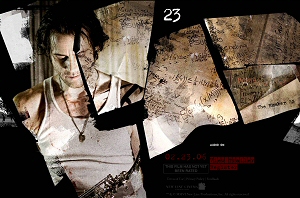 "The Number 23" Official site
23 ENIGMA FACTS
- The human genome contains 23 pairs of chromosomes.
- W, the 23rd letter of the Latin alphabet has 2 points down, 3 points up.
- The plane crash that killed
Buddy Holly
,
Ritchie Valens
, and
The Big Bopper
occurred on
February 3
(2/3),
1959
.
-
Johnny Carson
was born on
October 23
,
1925
and died on
January 23
,
2005
.
- Actor
River Phoenix
, was born on
August 23
,
1970
. He died at the age of 23, on
Halloween
1993
.
- Find more 23 facts / theories here to use:
http://en.wikipedia.org/wiki/23_(numerology)