By Eva Araújo (Web correspondent)
Sometimes a simple thing, created at the heat of a moment can change everything. In 2008, Jim started in the movie "Yes Man", a story loosely based on a book by Danny Wallace. In the movie we follow thes tory of Carl, a man who doesn't take any risks in his life and that after taking a seminar, decides to say Yes to everything that comes his way, turning his boring life into an adventure as well as teaching him that if we don't take risks... we may not live at all.
But one particular scene of this movie caught the eye of 21-year-old Brighton University student Lizzie Durley who decided to create the Sellotape Selfie Facebook page after laughing at the scene in "Yes Man" in which Jim Carrey tapes his own face.
'I was having a bad day and remembered that scene from the film which really tickled me. I figured people were getting bored of the whole 'selfie' craze - I know I was. So I just applied the concepts of the selfie to this idea and it resulted in Sellotape selfies!'
She presented the idea to her friends who shared it online and before she knew it, it was all over the internet. 'It grew so quickly,' she says. 'The concept is applicable to literally anyone, everyone can join in, there's no risk of offence, and people just love to have a giggle. 'So it blew up on Facebook.'
She said her 'goal' was 3,000 but today, her Facebook page has more than 120,000 likes and receives hundreds of submissions from enthusiastic selfie-takers every day making it the trend of the year.
Jim Carrey became aware of it and talked about in his Twitter account:
Guess I started a face tape trend.Makes ppl look like a Francis Bacon painting.Keep the nose holes clear kids!
http://www.boredpanda.com/sellofie-sell ... portraits/
… (8^¥)
But the best thing was yet to come
Lizzie, the creator of the page, who answer Jim's tweet, got more than she hoped when Jim officially joined the trend too by posting his own selfie on Twitter in a reply to her: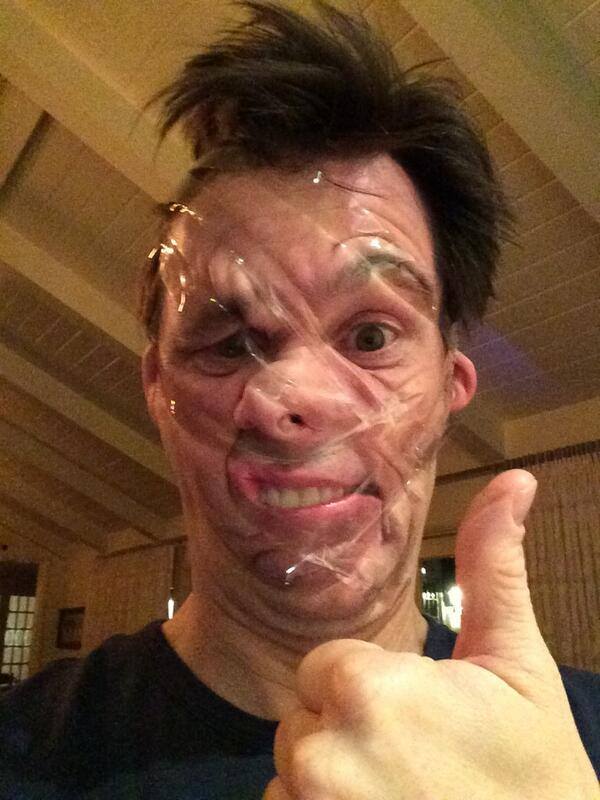 http://jimcarreyonline.com/recent/news.php?id=2006