By Omnipresence
Web correspondent
Ever visited our video section?
If you haven't, now is a better time than ever to take a look at all the exciting content that can be found on the site.

Today there has been a new bumper update of the multimedia section and we have added hours of clips to the section. Films, interviews and stand up, we have it all a whole
fourteen hours
to be exact. All for your viewing pleasure.
With such a large collection that makes us the biggest resource for Jim Carrey clips on the internet and you are sure to find something you haven't seen before.
There are some real gems on the site, personal favourites being Jim's Un-Natural Act in 1991 and a whole chest of Fire Marshall Bill gold!
Jim's talent simply leaps out of the videos.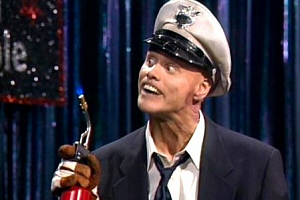 To help keep the section up-to-date, if you notice any clips not already on then please do not hesitate to contact us so we can add them in the next update.
In the mean time I'll let you drift off in to Jim Carrey heaven! To find the videos go to the multimedia tab and click on
Video Clips
.
Enjoy!