Featurette #1 - The 23 Enigma

Posted:
Sat Feb 03, 2007 3:15 am
IGN Entertainment has uploaded the first featurette of Jim Carrey's upcoming movie The Number 23 exclusively at their site Rotten Tomatoes. The featurette is about 'The 23 Enigma' and shows clips from the movie and has interviews with director Joel Schumacher and Jim Carrey.
The "23 Enigma" refers to the belief that all incidents and events are directly connected to the number 23, some permutation of the number 23, or a number related to the number 23.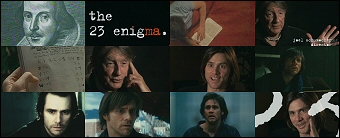 © New Line Cinema
»
Featurette #1 - The 23 Enigma
Hi-Res (Quick Time)
»
Featurette #1 - The 23 Enigma
Low-Res (Quick Time)